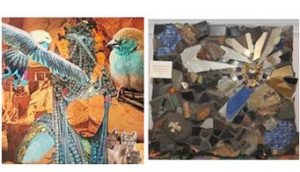 In March we are pleased to host the fine collages of Jackie Hanes and Denny Nkemontoh. Here is what we have learned about the artist:
Jackie Hanes ~ I am fascinated by the use of pre-existing materials to create meaningful expressions that emerge from within. Sometimes one builds on a particular subject to create a piece, as opposed to letting the piece evolve into a story or meaningful expression. As an 8+ year member of the Hillsboro Artist's Marching Band and Chowder Society, my interest in collage as an art form emerged. Some of the pieces in this collection are from the theme group projects.
Denny Nkemontoh ~ I love exploring various art forms and turning others on to new forms and techniques. I believe art is a journey, a process, as much or more than it is a final product. The pieces displayed use a variety of substrates (underlying materials ranging from glass to wood to paper) and tesserae (small pieces generally used in mosaics – found, purchased, and created) that mixes, in many cases, mosaic with collage.