FRIENDS OF THE LIBRARY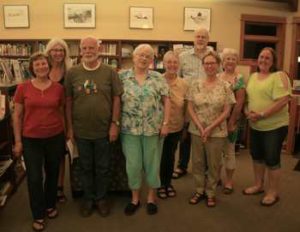 The Friends of the North Plains Public Library (Friends) group is a 501(c)(3) non-profit organization that coordinates fundraising events and activities to benefit the library. The group patterns itself after the national organization joining hundreds of groups in support of libraries around the country.
The Friends are governed by an eight member Board of Directors. They meet quarterly, the second Monday of the month at 7 PM at the North Plains Public Library to plan events and fundraising activities.
Dates of meetings for 2017 are:
September 11, 2017
December 11, 2017
March 12, 2018
June 11, 2018(General Membership Meeting & Election of Officers)
If you would like to become a member of the Friends, you may complete the Online Membership Application Form or print and fill out the Membership Application Form [pdf]. and mail it to:
Friends of the North Plains Public Library
PO Box 525
North Plains, Oregon 97133