FRIENDS' HISTORY


The Friends of the North Plains Public Library (Friends) group is a 501(c)(3) non-profit organization that coordinates fundraising events and activities to benefit the library. The group patterns itself after the national organization joining hundreds of groups in support of libraries around the country.
The Friends first met in October 2001 with the dream of establishing a library in North Plains that would eventually become part of the Washington County Cooperative Library Services. After a busy year of becoming incorporated, raising money, gathering book donations, purchasing needed equipment, cataloguing and shelving books, the library was opened in February 2003 in a small 590 sq. ft. "closet" at the Jessie Mays Community Center with a completely volunteer staff.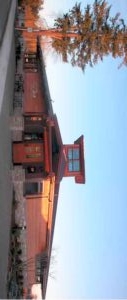 In April 2004, Mr. Wayne Holm proposed to the North Plains City Council constructing a 2,500 sq. ft. building to house the rapidly growing North Plains Public Library in partnership with the Friends. Jointly the project began and a Capital Campaign fund raising got underway. The Friends raised over $500,000 to complete the building, furnish and equip the library. The new library had its grand opening on April 29, 2006. While the Friends own the North Plains Public Library building, an Operations Contract was signed with the City of North Plains to maintain and manage the library. The Friends continue to give additional financial support to the City towards operational expenses.