ONLINE BOOK SALES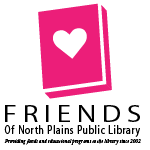 The Friends of North Plains Public Library have been hosting Online Book Sales through Amazon.com and Ebay.com since 2012. Proceeds from the sale of books benefit the North Plains Public Library.
Click Here to browse over 3000 book, dvd and audio titles listed on Amazon.com.
Donations of new and gently used books, dvd, audio titles and bubble wrap are welcome!
Where can you donate books?
Donations are accepted (across the street from the library) at:
31311 NW Commercial Street
North Plains, Oregon 97133
Please Contact Us by Email if you have a large donation or if you need a tax receipt.
How can you learn to sell online?
The Friends are looking for individuals who would like to assist their local library. The Friends will teach you everything you need to know about selling online, posting books, shipping and packaging, sorting and quality checking donated materials.
Please Contact Us by Email if you would like more information on volunteering with Online Book Sales.
Donations Guidelines
Materials NOT ACCEPTED (Please recycle elsewhere):
magazines
books with excessive highlighting or writing
items in poor condition falling apart, musty, or mildewy
old encyclopedia sets
VHS tapes
We ACCEPT the following gently used "Like New to Good" quality:
trade paperback books
hardback non-fiction books
hardback fiction books
hardback children's books
books on CD
movies on DVD (all discs must be present)
audio books on tape
Come join the fun and help us support our Library!