The North Plains Public Library helps support Early Literacy by providing age-appropriate storytimes for children from birth to age five.
Children's storytime is held every Wednesday morning from 11:30 am to noon at the library.
Make a splash!   Summer Reading at North Plains Public Library!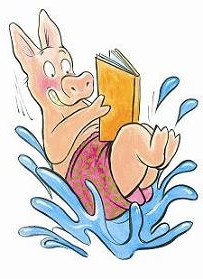 Every year, the North Plains Public Library hosts a Summer Reading Program, and all children and teenagers are welcome to join! Summer Reading Program activities include family storytimes, special programs and performers, and events and programs just for teens. All babies, toddlers, kids, and teens who register for Summer Reading will be given a reading log to record what they read (or what is read to them, for little ones) during the summer. All program finishers earn a free reward book! Other rewards for program finishers include coupons for summer fun activities, and a special discount day at Oaks Park.