STORYTIME
The North Plains Public Library helps support Early Literacy by providing age-appropriate storytimes for children from birth to age six. Children's storytime is held every Wednesday morning from 11:30 am to 12:00 noon at the library.
December 6 ~ Mr. Will – Sheep Attack
December 13 ~ Mr. Will- Sleepy Head
December 20 ~ No Storytime, happy holidays!
December 27 ~ No Storytime, happy holidays!
January 3 ~ Mr. Will- New Year, New Books
---
What is Early Literacy?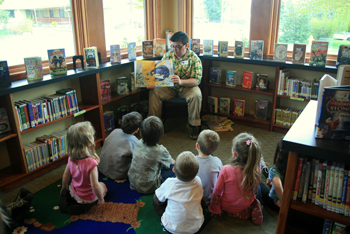 And what does it have to do with a child learning to read?
The foundation for learning to read is more than the ABCs! While knowing letters is a part of the reading puzzle, getting ready to read is so much more.
Research shows that when we read and talk with babies and young children, we help to create brain connections associated with language development. Talking, singing, and reading with young children are the best things you can do to prepare them to become readers.
Early Literacy is what children know about reading and writing before they can actually read or write.
Early Literacy is made up of these six skills which develop in young children starting at birth:
Print Motivation: Enjoying books.
Vocabulary: Knowing the names of things and concepts in the world.
Narrative Skills: The ability to describe things and events and to tell stories.
Phonological Awareness: Being able to hear and play with the smaller sounds in words, such as rhymes and syllables.
Print Awareness: Noticing print and knowing how a book works.
Letter Knowledge: Knowing letter names and sounds.
When you talk, sing, and read with your child in a fun, relaxed environment, you are helping your child develop these skills. Establishing positive associations with books, by making reading time fun for your child, will help him or her become motivated to learn to read.
---


TumbleBooks are animated, talking picture books which teach kids the joy of reading in a format they'll love. TumbleBooks are created by taking existing picture books, adding animation, sound, music and narration to produce an electronic picture book which you can read, or have read to you.
---


Fingerplays and rhymes are wonderful literacy builders! They encourage conversations, beg to be sung and are built around a love of play. Fingerplays and rhymes are infectious and fun! Enjoy these videos of Washington County librarians demonstrating some of their favorite rhymes.