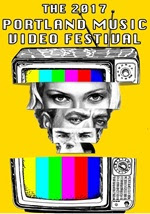 Join us on Friday April 28 from 8 p.m. until 10 p.m. for an exciting showcase of the work of musicians and filmmakers from Portland and around the world.
Founded and directed by Portland State University professor Dustin Morrow, the festival focuses on widely varying approaches to interpreting music for the visual medium. Many of the videos showcased at the Festival come from local artists and filmmakers. Other videos come from as far away as Korea, Sweden, Denmark, and Japan.
The Portland Music Video Festival is one of only a handful of festivals in the world dedicated exclusively to the art and craft of music video production.