Children's Storytime

Children ages 0-6 are invited to participate every Wednesday at 11:30 a.m. in the children's section of the Library.
–September 2 Storytime with Miss Marion: Who's Going To School?
–September 9 Storytime with Teacher Barbara: Song and Dance
–September 16 Special Guest Storytime: Nicki and Her Pet Tarantula, Walkity
–September 23 Storytime with Youth Librarian Jackie: Hippos
–September 30 Storytime with Youth Librarian Jackie: Birds
Library Card Sign-up Month and Lucky Library Barcode Contest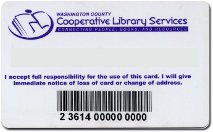 Since 1987, Library Card Sign-up Month has been held each September to mark the beginning of the school year. It is a time when the American Library Association and libraries across the country remind parents that a library card is the most important school supply of all.
In North Plains, we celebrate the month with the Lucky Library Barcode Contest. Match your library card with the numbers on the barcode list each week to win your choice of yummy prizes.
Writer's Group

Share your writing projects and receive feedback from peers on Thursday, September 3 at 6:30 p.m.
New members are welcome to join. (This is not a teacher/trainer-led class.) Check out this link to Creative Writing Prompts!
First Friday Flick

Join us at Jessie Mays Community Hall on Friday, September 4 at 6 p.m. to watch a PG-rated move about a cross-country coach who comes to a poor city in California and transforms a team of high school boys into champion runners.

Holiday Closure

The Library will be CLOSED on Saturday, September 7 for Labor Day.

Free Drawing and Painting Classes

Learn How to Capture Your World with Watercolor and Pen. The North Plains Public Library has received a grant from Lifetime Arts, Inc. to host a free skill-building art workshop series for adults 55 and older to foster mastery of drawing, painting, and art journaling. Led by professional teaching artist, Valerie Sjodin, classes will be held at the Jessie Mays Community Hall on Thursdays from September 10 through October 29 from 1 to 3 p.m. At the culmination of the classes, on Friday evening, October 30, there will be a free public celebration at the North Plains Public Library beginning at 6 p.m. to showcase the finished art products and highlight the achievements of every participant.
"Creative Aging" is the practice of engaging older adults in participatory, professionally run arts programs with a focus on social engagement and skills mastery. This movement is about providing opportunity for meaningful creative expression through arts workshops. Proponents of creative aging recognize growing older as a time of life with abundant but untapped potential for personal growth and enhanced well-being.
In this grant-funded 8-week workshop series, participants will explore the process of making a visual book, learning drawing with pencil and pen, learning watercolor painting, and applying journaling techniques to accompany the images. Participants will be encouraged to celebrate their local community and nature, and to build relationships with neighbors in a relaxed environment. Processes will include painting from life and photo reference. All supplies will be provided at no cost to participants.
Class space is limited to 20 people, aged 55 and older. Participants are expected to attend all 8 classes. Register by calling the North Plains Public Library at 503-647-5051. For information about Lifetime Arts, Inc. and Creative Aging, visit this website: http://www.lifetimearts.org/. For information about Valerie Sjodin, visit her website: http://valeriesjodin.com/.
Friends of the Library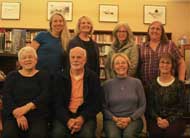 There will be a general meeting of the Friends on Monday, September 14, at the Library from 7:00-8:30 p.m.
New members are welcome to attend.

Free Math and Science Tutoring

North Plains Public Library now has a Math and Science Tutor available to assist students every other Saturday. Math tutoring is available for students in elementary through college grade levels. Science tutoring is available for elementary and middle school grade levels.
Please call the library at 503-647-5051 to make a reservation.

Library Book Club

The Book Club will meet at the Library on Wednesday, September 30 at 7 p.m. to discuss "All the Light We Cannot See" by Anthony Doerr.
The author, whose book won the 2015 Pulitzer Prize for fiction, has created an amazing novel about a blind French girl and a German boy whose paths converge in occupied France as both endure the devastation of World War II.
New members are always welcome to join.
Banned Books Week – Celebrating the Freedom to Read.


Banned Books Week is an annual event, and will be held this year from September 27 through October 3. It highlights the value of free and open access to information. Banned Books Week brings together the entire book community – librarians, booksellers, publishers, journalists, teachers, and readers of all types – in shared support of the freedom to seek and to express ideas, even those some consider unorthodox or unpopular.
Come to the Library to see our display celebrating the freedom to read.

Artwork on Exhibit

The art exhibit in September and October will be photography by Portland resident Benjamin Kaufman.

Quilt Display

The quilt on display above the checkout desk throughout the month of September is by Marlene Thomas of the West Side Quilters Guild.
About the quilt, she reports, "I saw the pattern at a quilt fair. I was with my daughter, and she loves bears so I bought the pattern and made the quilt with homespun fabrics. The bears and trees are appliqued, and the bear paw blocks are pieced."


Staff Spotlight: Itzel Sayago
Welcome Library Clerk Itzel Sayago! She is currently working on her undergraduate degree and ultimately plans to pursue a Library Science degree, with the hope of becoming a library director one day. She is thrilled to join the North Plains Public Library team.
Besides her desk duties, Itzel will also be responsible for social media posts, the monthly electronic newsletter, and the Art of the Story program. In addition to working for North Plains, Itzel is currently a Library Clerk at the Cornelius Public Library.
During her free time, Itzel enjoys playing soccer. When she is not kicking the ball around, she spends her time reading a good book. Her favorite "reads" are paranormal, apocalyptic, and romance genres.


New Raffle Quilt from Westside Quilters Guild


Many thanks to Westside Quilters Guild members for their generous donation of a new, colorful quilt for the Library to raffle as a fundraiser.
Tickets are now on sale and will be sold throughout the coming year until the winning ticket is drawn at the annual Elephant Garlic Festival in August 2016. Each ticket is $1, or 6 tickets will be issued for $5. This year's beautiful quilt was created by Marcia Elliott and is titled, Japanese Lanterns. It will be continuously on display in the Library.




Earn a Donation for the Library through Fred Meyer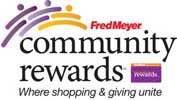 You can help the Friends of the North Plains Public Library just by shopping with your Fred Meyer Rewards Card.
Fred Meyer is donating $2.5 million per year to non-profits in Alaska, Idaho, Oregon and Washington, based on where their customers tell them to give.
Here's how the program works:
Sign up for the Community Rewards program by linking your Fred Meyer Rewards Card to the Friends of the North Plains Public Library. You can search for us by our name or by our non-profit number, 86408. Start here: www.fredmeyer.com/communityrewards
Then, every time you shop and use your Rewards Card, you are helping the Friends of the North Plains Public Library earn a donation!
You still earn your Rewards Points, Fuel Points, and Rebates, just as you do today.
If you do not have a Rewards Card, they are available at the Customer Service desk of any Fred Meyer store.
For more information, please visit www.fredmeyer.com/communityrewards.
Support Our Library with Every Amazon Purchase You Make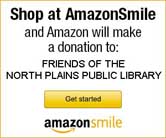 Did you know that Amazon will donate 0.5% of the price of your eligible purchases to the Friends of the North Plains Public Library?
AmazonSmile is a simple and automatic way for you to support the Library every time you shop, at no cost to you. When you shop at smile.amazon.com, you'll find the same low prices, selection, and shopping experience as at amazon.com, with the added bonus that Amazon will donate a portion of the purchase price to the Friends.
Sign up today, and make your choice be the Friends of the North Plains Public Library. Here's how…
Click on the Get Started Button in the Amazon Smile icon image.
Log in with your name and password.
Select the Friends of the North Plains Public Library as your designated charity.
Start shopping!
Bubble-Wrap Drive


Members of the Friends of the Library are collecting donations of small-bubble-sized bubble-wrap. Please bring your clean bubble-wrap donations (no tape attached to it) to the Jessie Mays
Community Hall and put it through the slot to the right of the door to the annex.
Many Thanks to North Plains RV and Self Storage

The Friends of the Library have been given a free storage unit to house books between
sales events. Friends members, city staff, and library staff are very grateful for this donation. We applaud the corporate support shown by owner Jeff Jensen and manager of operations,
John Eisenbarth.