An Old-Fashioned Fourth… Wild West Celebration!

You're invited to downtown North Plains on the 4th of July from 9 a.m. to 10:30 p.m. for a patriotic adventure that will take you back in time for a day filled with historical fun!
Try your hand at 19th Century Challenges & Competitions. This free Patriotic Celebration will include a "Cruisin' Thru Time" Car Show, a Patriotic Parade, LIVE music featuring Mean Satisfaction and Whisky Union (formerly known as Concrete Cowboys now joined by Rodeo Rose), and a variety of delicious food. End your day enjoying the 4th of July Fireworks presented by the City of North Plains and Recology / Nature's Needs. Patriotic music will be broadcast along with the fireworks by AM 1360 KUIK radio. Please join us in honoring the birth of our nation and remembering the sacrifices made for our freedom. Click here for a complete schedule of events.
More Open Hours Beginning July 6!

Thanks to funding from the Washington County Cooperative Library Services and approval of the 2015-2016 budget by the North Plains City Council, the North Plains Library will be open 50 hours each week – one hour earlier each weekday and Saturday and eight summer Sunday afternoons! These new open hours begin on Monday, July 6. Visit early and visit often!
Monday-Wednesday 10 a.m. to 7 p.m.
Thursday-Friday 10 a.m. to 6 p.m.
Saturday 10 a.m. to 5 p.m.
July 12, 19, 26 and August 2, 9, 16, 23, 30
Sunday 1 p.m. to 5 p.m.
Wacky Wednesdays
Join us at the Jessie Mays Community Hall each Wednesday afternoon at 1 p.m. throughout the summer for an hour of free entertainment and fun. The Library sponsors programs for children as part of its Summer Reading activities. Four performers are provided by the Washington County Cooperative Library Services (WCCLS). This year's lineup includes:
July 8 Chuck Cheesman Get up and move with Chuck Cheesman! Mr. Cheesman will perform original and traditional songs with guitar, banjo, and ukulele! Don't miss the fun. All ages are welcome. Free popcorn!
July 15 Angel Ocasio – Komedy 4 Da Kidz (provided by WCCLS) A high energy, very funny, one-man variety show packed with physical comedy, jokes, juggling, and comedy magic! Perfect for the whole family. Free popcorn!
July 22 Harmony High with the ? July 29 Alex Zerbe – Zaniac (provided by WCCLS) STAGES Performing Arts Youth Academy Join us for this fun musical theater experience – Harmony High. You just can't get enough of this crazy school! New students of Harmony High, Michael, Michele, and Junior, are about to discover that music and singing is where it is at. Even the students in detention are singing the blues. With the energy of 1,000 suns, The Zaniac bounces from one end of the stage to the other like an untamed rubber band. Two-time Guinness World Record holder! All ages are welcome. Free popcorn!
Children's Storytime

Children ages 0-6 are invited to participate every Wednesday at 11:30 a.m. in the children's section of the Library.
–July 8 Storytime with Youth Librarian Jackie: Birthdays
–July 15 Special Guest Storytime: Law Enforcement Officer Sam Freshner
–July 22 Storytime with Youth Librarian Jackie: Elephants
–July 29 Storytime with Teacher Barbara: Monsters
A Summer Evening with an Author

Be inspired to enhance your summer reading experience by attending a program and visiting with author Molly Gloss on Saturday, July 25 at 7 p.m. at the Library.
This best-selling author of The Hearts of Horses and Jump-Off Creek has just published a new novel, Falling From Horses, in which a young ranch hand escapes a family tragedy and travels to Hollywood to become a stunt rider. Along the way, he meets a young woman who also harbors dreams of making it in Hollywood – as a writer.
This evening's presentation is the third event in "An Evening With An Author" series focusing on local and regional authors, showcasing their works and cultural contributions. All programs are presented free of charge thanks to the Friends of the North Plains Public Library and a generous grant from the Cultural Coalition of Washington County.
Reservations are required in order to provide adequate seating. Call the Library now to make your reservations (503-647-5051).
Summer Reading 2015!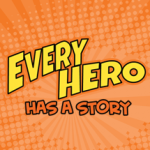 It's not too late to sign up for the Every Hero Has a Story Summer Reading Program at the North Plains Public Library. New this year, Library Staff, Library Board members, Friends of the Library, and Library Volunteers have issued a challenge to the adults of greater North Plains to reach a goal of collectively reading one million pages by the end of summer – Library Folk versus our Reading Public.
There will be weekly contests with prize drawings. The program will run through Summer Reading Program Wacky Wednesdays.
Summer Reading Teen Program

On Thursday, July 16 at 3 p.m. at the Jessie Mays Community Hall, there will be a Story Trivia Contest. How well do you know Harry Potter, The Hunger Games, or The Lightning Thief? If you're a fan of YA books, don't miss Story Trivia! Test your knowledge for fabulous prizes like books, book-themed prize packs, gift certificates, and more! After the game, Portland authors Robin Herrera, Chris Struyk-Bonn, and Mary Elizabeth Summer will be on hand to read from their books and answer a few audience questions. If you're a reader, you're a winner! This teen event is open to those entering 6th-12th grades.
Friends of the Library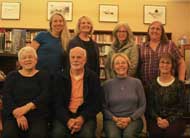 There will be a general meeting of the Friends on Monday, JuLY 13, at the Library from 7:30-9 p.m.
New members are welcome to attend.
Library Board Meeting

The Library Board will meet this month on July 15 at 7:30 p.m. at the North Plains Public Library.
The public is welcome to attend and the agenda will be available a week prior to the meeting.
Artwork on Exhibit

The art exhibit in July and August will be a showing of seasonal quilts made by local resident Diane Link.
Diane started quilting over 32 years ago. She took a beginning class and has taught herself the rest. She usually makes her quilts as gifts for newborns and friends, or for her home, and it is these gems that Diane has on display at the Library. She machine-pieces and usually hand-quilts. Of note are the flag quilt, which was made when her son commissioned with the USMC, the blue and yellow pineapple star quilt from the book, Pineapple Stars by Sharon Rexroad, and the lone Iris quilt, which is a pattern from the Lake Oswego quilting store, Pine Needle.
Library Book Club

The Book Club is taking a summer break now and will meet again on September 30 when they will discuss "All the Light We Cannot See" by Anthony Doerr.
Winner of the 2015 Pulitzer Prize for fiction, Anthony Doerr's latest novel is highly acclaimed and should provide a great "summer read" and a lively discussion in September.
New members are always welcome to join.
Quilt Display

The quilt above the checkout desk throughout the month of July is entitled "Bow Tie." The beautiful quilt top was made in the 1930s or 1940s by Sarah Catherine Cauffman in Arkansas.
The top was for sale at the 2011 Vernonia Quilt Show, and local resident Jo Ann Tannock fell in love with it. However, she passed on buying it as she remembered all the quilt tops she herself had made which were waiting to be quilted. Then, several months later at a birthday party for Jo Ann, she opened a box and found inside the quilt top from the show – a gift to her from a friend. She was astonished and so pleased. Last winter she couldn't resist the temptation to move it to the top of her to-be-quilted list, so on display is the finished quilt, hand-pieced by Sarah 75 to 80 years ago and hand-quilted by Jo Ann in 2014. It measures 78" x 80."
Staff Spotlight: Hannah Sherwood
Hannah started volunteering at the North Plains Public Library in 2012 and was hired In May 2015 as a Library Clerk. Growing up in various Washington towns, she spent many rainy days curled up in the house with a good book. Though she will read nearly anything, Hannah prefers the sci-fi and fantasy genres. In her spare time, Hannah enjoys spending time with her friends and family as well as playing with her absolutely adorable cat, Winry.
Quilt Raffle

Many thanks to The Westside Quilters Guild members for their generous donation of this colorful quilt for the Library to raffle as a fundraiser. Tickets are now on sale and will be sold throughout the coming year until the winning ticket is drawn at the annual Elephant Garlic Festival in August.
Each ticket is $1, or 6 tickets will be issued for $5. This beautiful quilt utilizes a non-traditional pinwheel design. Rather than incorporating traditional half-square triangles, each of the four arms of every pinwheel in this quilt is in the shape of a trapezoid. Each block features a different, brightly colored pinwheel on a white patterned background, and the entire piece is machine-quilted. It measures six feet square.
This quilt will be on display over the Checkout Desk during January and displayed elsewhere in the Library thereafter.
Earn a Donation for the Library through Fred Meyer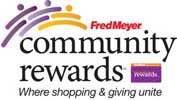 You can help the Friends of the North Plains Public Library just by shopping with your Fred Meyer Rewards Card.
Fred Meyer is donating $2.5 million per year to non-profits in Alaska, Idaho, Oregon and Washington, based on where their customers tell them to give.
Here's how the program works:
Sign up for the Community Rewards program by linking your Fred Meyer Rewards Card to the Friends of the North Plains Public Library. You can search for us by our name or by our non-profit number, 86408. Start here: www.fredmeyer.com/communityrewards
Then, every time you shop and use your Rewards Card, you are helping the Friends of the North Plains Public Library earn a donation!
You still earn your Rewards Points, Fuel Points, and Rebates, just as you do today.
If you do not have a Rewards Card, they are available at the Customer Service desk of any Fred Meyer store.
For more information, please visit www.fredmeyer.com/communityrewards.
Support Our Library with Every Amazon Purchase You Make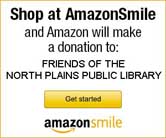 Did you know that Amazon will donate 0.5% of the price of your eligible purchases to the Friends of the North Plains Public Library?
AmazonSmile is a simple and automatic way for you to support the Library every time you shop, at no cost to you. When you shop at smile.amazon.com, you'll find the same low prices, selection, and shopping experience as at amazon.com, with the added bonus that Amazon will donate a portion of the purchase price to the Friends.
Sign up today, and make your choice be the Friends of the North Plains Public Library. Here's how…
Click on the Get Started Button in the Amazon Smile icon image.
Log in with your name and password.
Select the Friends of the North Plains Public Library as your designated charity.
Start shopping!
Bubble-Wrap Drive


Members of the Friends of the Library are collecting donations of small-bubble-sized bubble-wrap. Please bring your clean bubble-wrap donations (no tape attached to it) to the Jessie Mays
Community Hall and put it through the slot to the right of the door to the annex.
Many Thanks to North Plains RV and Self Storage

The Friends of the Library have been given a free storage unit to house books between
sales events. Friends members, city staff, and library staff are very grateful for this donation. We applaud the corporate support shown by owner Jeff Jensen and manager of operations,
John Eisenbarth.