Take a Survey and Win a Prize

How does free access to computers & Internet at the library impact YOU?
We want to know how our patrons use the library's computers and Internet connection, so we can make these services better. Please help us better serve you by taking our online survey today. It's easy, anonymous and quick (10-15 minutes) – just visit www.wccls.org/impact
You can enter to win 1 of 3 sets of prizes: a $20 Fred Meyer gift card & a WCCLS tote bag!
Children's Storytime

Children ages 0-6 are invited to participate every Wednesday at 11:30 a.m. in the children's section of the Library.
-March 4 Storytime with Miss Marion: Watch It Blow!
-March 11 Storytime with Teacher Barbara: Noise
-March 18 Special Guest Storytime: Baby Goats
-March 25 Storytime with Youth Librarian Jackie: Cats


Writer's Group

Share your writing projects and receive feedback from peers on Thursday, March 5 at 6:30 p.m.
New members are welcome to join. (This is not a teacher/trainer-led class.) Check out this link to Creative Writing Prompts!
First Friday Flick

Join us on the first Friday of each month at the Jessie Mays Community Hall at 6 p.m. for a FREE movie showing. On Friday, March 6, come see a PG-rated, comedy-action adventure from Walt Disney Animation Studios about and inflatable robot who saves the city of San Fransokyo from a notorious villain.
Refreshments will be served.




Thank You Epson Portland, Inc.

The Friends of the North Plains Public Library wish to acknowledge and thank Dave and Emi Graham and Epson Portland, Inc. for the generous donation of a new Epson printer! It will be used by the Friends for their online book sales program which is conducted from the Jessie Mays Community Hall annex and which netted $2,500 this past year for the Library. Many thanks to the Grahams and Epson for helping with this fundraising program!
Friends of the Library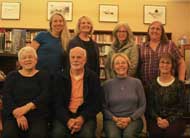 There will be a general meeting of the Friends on Monday, March 9, at the Library from 7:30-9 p.m.
New members are welcome to attend.
Artwork on Exhibit

The art exhibit in March and April will feature works by Anne Marie Grgich, a Seattle-based collage artist with national and international acclaim.
A reception will be held in her honor on Friday, March 13 from 6 to 7:30 p.m. at the Library. The evening will also feature art viewing and wine tasting at Abbey Creek Vineyards from 6 to 9 p.m. Join your friends and spend the evening enjoying this fabulous Art Walk event.
Super Saturdays – Leapin' Louie!

All ages are invited to come watch this free, one-man western comedy show on Saturday, March 14 beginning at 1 p.m. at the Jessie Mays Community Hall.
David Lichtenstein specializes in physical comedy, trick roping, fancy whip cracking, juggling, and unicycling – a virtuoso of new vaudeville and alternative circus.
For more information, visit: http://www.comedytricks.com/
Library Board Meeting

The Library Board will meet this month on March 18 at 7:30 p.m. at the North Plains Public Library.
The public is welcome to attend and the agenda will be available a week prior to the meeting.
Introduction to Beekeeping

Join us at the Library on Thursday, March 19 from 6-7 p.m. to learn about the benefits of keeping honeybees.
Jeff Clark and his family keep bees in rural northern Washington County. He is the President of the Tualatin Valley Beekeepers and a journeyman in the Oregon Master Beekeeper Program. This free presentation will cover:
Hives and equipment
Cost of getting started
Local rules and regulations
Resources for more information (local bee groups, and bee schools)
Come listen and ask questions to find out if beekeeping is for you!
LEGO Palooza!

Come to Jessie Mays Community Hall on the first day of Spring Break, Monday, March 23, and use your imagination to make fantastic LEGO creations. Drop in between 11 a.m. and 3 p.m. Kids, teens, and adults are welcome.
We will provide the LEGOs (for ages 6 and up) and DUPLOs (for ages 3 and up), so please leave yours at home and ours at Jessie Mays!
Quilt Display

The quilt on display above the checkout desk throughout the month of March is titled Swoon. It was created by AnnMarie Cowley, a member of the Westside Quilters Guild.
The pattern for this 80" square quilt is by Thimble Blossoms, and the piece was quilted with straight lines.
Library Book Club

The Book Club will meet at the Library on Wednesday, March 25 beginning at 7:30 p.m. to discuss The Housekeeper and the Professor by Yoko Ogawa.
This is beautifully-written story of a brilliant math professor who has suffered a traumatic brain injury, and who is left with just eighty minutes of current short-term memory. An astute, young housekeeper, with her ten-year-old son, is hired to care for him. The Housekeeper and the Professor is an enchanting story about what it means to live in the present, and about the curious equations that can create a family.
Refreshments will be served.



Staff Spotlight: Library Director Debbie Brodie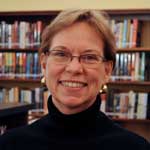 Library Director Debbie Brodie attended the University of Washington where she majored in art history and anthropology and the University of Oregon from which she earned her Master of Library Science degree. After a three-decade library career with the City of Hillsboro, she was hired as the part-time director for the North Plains Public Library just over five years ago.
Her job involves implementing the Library Board's goals to maintain a popular materials library for the community, to increase hours open, and to provide programs for children and adults. She credits her coworkers – a part-time staff of nine outstanding employees, plus a cadre of 70 faithful volunteers – for bringing those goals to fruition and for making the workplace fun for each other and for the public. She is proud to represent North Plains within the Washington County Cooperative Library Services, from which the Library receives half of its funding.
Debbie and her husband Paul enjoy gardening, hiking, and traveling. They are the proud parents of two grown children, and they enjoy visiting them in Hawaii and North Dakota. Her favorite "reads" are non-fiction books and magazines, especially those about science and nature.
Coming in April- Fourth Annual Haiku Contest

Celebrate National Poetry Month with us this April. Enter your haiku poems from April 1-27 to win a Regal Cinemas gift card.
This year's theme is Super Heroes!
Coming in April- Beginner Internet Genealogy

Learn how to use Heritage Quest and Ancestry databases. Explore websites such as Family Search and Find-a-Grave. Three FREE classes will be taught by Library staff member Donna from 6-8 p.m. on consecutive Thursday nights.
Class size is limited to nine people using Library computers and four people using their own laptops. Participants must commit to all three classes. Call the Library to sign up (503-647-5051):
April 16 Basic Record-Keeping and Heritage Quest
April 23 Family Search and Find-a-Grave
April 30 Ancestry (not accessible from laptops) and Wrap-up
Classes will be hands-on. Come prepared with whatever information you have about people you want to find – names, dates and locations of birth, death, and marriage.
Save the Date- Friday, April 17- 11th Annual Art of the Story Festival

National storyteller Sam Payne of Utah will perform at the Pumpkin Ridge Golf Club beginning at 7 p.m.
His storytelling skills, jazz-inflected folk music, and soaring tenor voice have established him as an engaging performer.
This free program, sponsored by the Washington County Cooperative Library Services, is designed for an adult audience.
Filing Taxes in 2015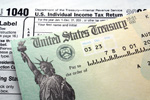 The Library will carry the most commonly used Federal forms and instructions.
Less common personal tax forms are also available for photocopying. Oregon state forms are available for photocopying. Ask at the front desk.
FILE ONLINE:
Federal: http://www.irs.gov
State: http://www.oregon.gov/DOR
Other States: http://www.taxadmin.org/fta/link/forms.html
HOW TO FILE FOR FREE ONLINE:
Federal and State: http://www.irs.gov/Filing/E-File-Options

"Free-file" is available for adjusted gross incomes of $60,000 or less. This method is through the IRS website and links to tax software companies who offer free filing for taxpayers who meet certain parameters. Even if taxpayers do not qualify to use any of the companies' filing services, this site itself offers free fill-able forms and free filing.
ORDER FORMS BY PHONE:
Federal: 800-829-3676 (24 hours)
Fed Teletax: 800-829-1040
Fed via fax: 702-368-9694
State: 800-356-4222 (toll-free in OR)
State TTY: 800-886-7204
PHONE TAX ASSISTANCE:
Federal: 800-829-1040
Oregon: 800-356-4222
Oregon Out of State: 503-378-4988
ORDER STATE FORMS BY MAIL:
FORMS
Oregon Department of Revenue
PO Box 14999
Salem, OR 97309-0990
AARP TAX AIDES IN NORTH PLAINS:
North Plains Senior Center
31450 NW Commercial Street
503-647-5666
Every Thursday, 9:00-05:00
Beginning February 12, BY APPOINTMENT ONLY
Note: This day/time is subject to change, as this is a volunteer-run program of AARP.
Quilt Raffle

Many thanks to The Westside Quilters Guild members for their generous donation of this colorful quilt for the Library to raffle as a fundraiser. Tickets are now on sale and will be sold throughout the coming year until the winning ticket is drawn at the annual Elephant Garlic Festival in August.
Each ticket is $1, or 6 tickets will be issued for $5. This beautiful quilt utilizes a non-traditional pinwheel design. Rather than incorporating traditional half-square triangles, each of the four arms of every pinwheel in this quilt is in the shape of a trapezoid. Each block features a different, brightly colored pinwheel on a white patterned background, and the entire piece is machine-quilted. It measures six feet square.
This quilt will be on display over the Checkout Desk during January and displayed elsewhere in the Library thereafter.
Earn a Donation for the Library through Fred Meyer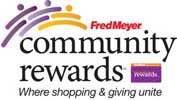 You can help the Friends of the North Plains Public Library just by shopping with your Fred Meyer Rewards Card.
Fred Meyer is donating $2.5 million per year to non-profits in Alaska, Idaho, Oregon and Washington, based on where their customers tell them to give.
Here's how the program works:
Sign up for the Community Rewards program by linking your Fred Meyer Rewards Card to the Friends of the North Plains Public Library. You can search for us by our name or by our non-profit number, 86408. Start here: www.fredmeyer.com/communityrewards
Then, every time you shop and use your Rewards Card, you are helping the Friends of the North Plains Public Library earn a donation!
You still earn your Rewards Points, Fuel Points, and Rebates, just as you do today.
If you do not have a Rewards Card, they are available at the Customer Service desk of any Fred Meyer store.
For more information, please visit www.fredmeyer.com/communityrewards.
Support Our Library with Every Amazon Purchase You Make
Did you know that Amazon will donate 0.5% of the price of your eligible purchases to the Friends of the North Plains Public Library?
AmazonSmile is a simple and automatic way for you to support the Library every time you shop, at no cost to you. When you shop at smile.amazon.com, you'll find the same low prices, selection, and shopping experience as at amazon.com, with the added bonus that Amazon will donate a portion of the purchase price to the Friends.
Sign up today, and make your choice be the Friends of the North Plains Public Library. Here's how…
Click on the Get Started Button in the Amazon Smile icon image.
Log in with your name and password.
Select the Friends of the North Plains Public Library as your designated charity.
Start shopping!
Bubble-Wrap Drive


Members of the Friends of the Library are collecting donations of small-bubble-sized bubble-wrap. Please bring your clean bubble-wrap donations (no tape attached to it) to the Jessie Mays
Community Hall and put it through the slot to the right of the door to the annex.
Many Thanks to North Plains RV and Self Storage

The Friends of the Library have been given a free storage unit to house books between
sales events. Friends members, city staff, and library staff are very grateful for this donation. We applaud the corporate support shown by owner Jeff Jensen and manager of operations,
John Eisenbarth.