Lucky Winner of our Holiday Tree Raffle

The Wizard of Oz upside down spinning tree that was donated by Metro West Ambulance was won by Sara McGee. Congratualation to Sara for purchasing the lucky ticket.
Thanks to all who participated in this unique Library raffle fundraiser, we raised over $100.
Children's Storytime

Children ages 0-6 are invited to participate every Wednesday at 11:30 a.m. in the children's section of the Library.
-November 26 Storytime with Youth Librarian Jackie: Cats
-December 3 Storytime with Miss Marion: Little People
Library Book Club
Join us on Wednesday, November 26 at 7:30 p.m. at the Library to discuss the novel, The Boys in the Boat: Nine Americans and Their Epic Quest for Gold at the 1936 Berlin Olympics, by Daniel James Brown.
"This book tells the story of the University of Washington's 1936 eight-oar crew and their epic quest for an Olympic gold medal, a team that transformed the sport and grabbed the attention of millions of Americans. It traces the story of the team that defeated elite rivals at Hitler's 1936 Berlin Olympics, sharing the experiences of their enigmatic coach, a visionary boat builder, and a homeless teen rower."– Provided by the publisher.
November Holiday Closures

The Library will close early at 5:30 p.m. on Wednesday, November 26, and will be closed on Thursday, November 27 for Thanksgiving Day. We will be open on Friday, November 28 during regular hours.
Quilt Display

The quilt on display over the checkout desk throughout the month of November is a Grandmother's Flower Garden set in Garden Path pattern (the green pieces).
This prize-winner was hand-quilted by area resident Jo Ann Tannock. It is a documented quilt in the Oregon Quilt Project, organized by a committee of the Willamette Heritage Center (Salem) and dedicated to documenting, collecting, and preserving information about the quilts and quilt-makers of Oregon, past and present.
Artwork on Exhibit

The art exhibit on display in November and December in the Library will feature a variety of images by photographer Charlie Hyman that focus on the west coast and on the fall and winter seasons.
Hyman lives in a small town south of Portland, and he spends many vacations traveling with his wife around the country in his camper, taking pictures. He has been photographing since he was about seven years old. "Grand landscapes and up-close details capture my attention most often, but I enjoy photographing all subjects. I'm also drawn to lines, textures, and geometric shapes, especially around cities. I love natural subjects and try my best to show them in an interesting and captivating way."
Earn a Donation for the Library through Fred Meyer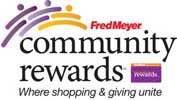 You can help the Friends of the North Plains Public Library just by shopping with your Fred Meyer Rewards Card.
Fred Meyer is donating $2.5 million per year to non-profits in Alaska, Idaho, Oregon and Washington, based on where their customers tell them to give.
Here's how the program works:
Sign up for the Community Rewards program by linking your Fred Meyer Rewards Card to the Friends of the North Plains Public Library. You can search for us by our name or by our non-profit number, 86408. Start here: www.fredmeyer.com/communityrewards
Then, every time you shop and use your Rewards Card, you are helping the Friends of the North Plains Public Library earn a donation!
You still earn your Rewards Points, Fuel Points, and Rebates, just as you do today.
If you do not have a Rewards Card, they are available at the Customer Service desk of any Fred Meyer store.
For more information, please visit www.fredmeyer.com/communityrewards.
Support Our Library with Every Amazon Purchase You Make
Did you know that Amazon will donate 0.5% of the price of your eligible purchases to the Friends of the North Plains Public Library?
AmazonSmile is a simple and automatic way for you to support the Library every time you shop, at no cost to you. When you shop at smile.amazon.com, you'll find the same low prices, selection, and shopping experience as at amazon.com, with the added bonus that Amazon will donate a portion of the purchase price to the Friends.
Sign up today, and make your choice be the Friends of the North Plains Public Library. Here's how…
Click on the Get Started Button in the Amazon Smile icon image.
Log in with your name and password.
Select the Friends of the North Plains Public Library as your designated charity.
Start shopping!
Bubble-Wrap Drive


Members of the Friends of the Library are collecting donations of small-bubble-sized bubble-wrap. Please bring your clean bubble-wrap donations (no tape attached to it) to the Jessie Mays
Community Hall and put it through the slot to the right of the door to the annex.
Many Thanks to North Plains RV and Self Storage

The Friends of the Library have been given a free storage unit to house books between
sales events. Friends members, city staff, and library staff are very grateful for this donation. We applaud the corporate support shown by owner Jeff Jensen and manager of operations,
John Eisenbarth.