Holiday Closure

The Library will be closed on Monday, May 25 for Memorial Day.






Children's Storytime

Children ages 0-6 are invited to participate every Wednesday at 11:30 a.m. in the children's section of the Library.
–May 27 Storytime with Youth Librarian Jackie: Bugs and Insects






Library Book Club

The Book Club will meet at the Library on Wednesday, May 27 beginning at 7:30 p.m. to discuss The Storied Life of A.J. Fikry by Gabrielle Zevin. You can listen to an interview of this author.
A.J. Fikry's life is not what he expected it to be. His wife has died, his bookstore is failing, and his prized possession, a rare collection of Poe poems, has been stolen. He is isolating himself from all the people of Alice Island and from Amelia, the Knightley Press sales rep who refuses to be deterred by A.J.'s bad attitude. And then a mysterious package appears at the bookstore that gives A.J. the ability to see everything anew. It doesn't take long for the locals to notice the change; or for that determined sales rep, Amelia, to see her curmudgeonly client in a new light.
New members are welcome. Refreshments will be served.


NEW Cultural Pass – The Oregon Garden

The Oregon Garden becomes the eighth destination to join the WCCLS Cultural Pass to Adventure program. Beginning in mid-April 2015, the membership will admit two adults and up to four children into The Oregon Garden.
Check out a Cultural Pass at participating WCCLS member libraries. Look in the online catalog to see which passes may be available now, then call the library to reserve the pass for a one-day check-out. Some restrictions may apply. Visit wccls.org/culturalpass for program details.



Destinations:
A.C. Gilbert's Discovery Village
Evergreen Aviation and Space Museum
Lan Su Chinese Garden
Pittock Mansion
The Portland Japanese Garden
The Oregon Garden
Rice NW Museum of Rocks & Minerals
Washington County Museum
Haiku Contest Winners Announced!
Out of the 132 entries here are the three winners for each category! Thank you to everyone who participated. All the entries were fantastic!
Congratulations to:
From the k-6th grade category: John A.
Lurking in the night
Supervillains be weary
'Cause here comes Batman
From the 7th-12th grade category: Aurora L.
Under masks he hides
Normal by day, savior by
Night, Gotham's hero
From the adult category: Dave S.
Billionaire Playboy
With powered iron suit
Fights to avenge us
Click here to read some more excellent examples from the community!
New Electronic Reader Board

Many thanks to the Friends of the North Plains Public Library and to Mark and Carolyn Leavitt for purchasing and installing the Library's new electronic reader board.
Slides of all upcoming Library events scroll across the screen that is located just above the children's computers in the main Library area. Be sure to take a look and join us at our many Library activities.





Index to The Beacon Newspaper

North Plains' own newspaper, The Beacon, was published by local resident Mitch Ward between June 2008 and December 2012. All issues have been bound into two volumes which are available in the Reference section of the Library. Local resident and historian Jo Ann Tannock has completed a comprehensive index of all people mentioned in each issue of the newspaper. The 54-page document has been bound and is also located in the Reference section. It shows where articles about or by those people are located in The Beacon — by issue, date, page, and column.
Many thanks to Jo Ann for creating this valuable resource!



Artwork on Exhibit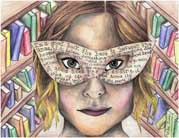 The art exhibit in May will be a showing of local children's art created at the Super Saturday Pizza and Paint Palooza Party.
Superheroes will be featured and is the theme of the 2015 Summer Reading Program.






Quilt Display

The quilt on display above the checkout desk throughout the month of May has a patriotic theme and is titled For My Son.
It was created by local resident Diane Link in honor of her son who serves in the US Marine Corps.






Staff Spotlight: Carol Aldrich

Carol is the Volunteer Coordinator for the library. Growing up in a large family on a small farm in Nebraska cultivated a deep affection for the outdoors, gardening, homemaking, and care of animals while the long Nebraska winters fostered the love of reading, writing, and libraries. Carol received a Bachelor of Science degree in Psychology from the University of Nebraska at Kearney. Fresh out of college, Carol began her early career as a Public Relations Coordinator at a regional medical facility. Her love of children, teaching, and lifetime fitness drew her to become a physical education teacher.
For the last five years, the North Plains Public Library has captured her heart and time. She feels blessed to work at the Library as the Volunteer Coordinator, a job she loves, working with wonderful people she enjoys, and being part of a community that truly cares!
Carol is happily married to Scott and couldn't be prouder of their two grown children. Her family shares a passion for being intentionally active and for travel adventures.
Carol's favorite "reads" are mostly non-fiction with an occasional mystery or adventure thrown in!
Summer Reading 2015 Challenge!

It's that time again! Sign up for the Every Hero Has a Story Summer Reading Program at the North Plains Public Library starting Monday, June 1.
New this year, Library Staff, Library Board members, and Library Volunteers are issuing a challenge to the adults of greater North Plains to reach a goal of collectively reading one million pages by the end of summer – Library Folk versus our Reading Public. There will be weekly contests with prize drawings. The program will run through August 31.
Look for the Library table at the North Plains Ice Cream Social on Thursday, June 4, where goodie bags and information will be distributed. Let the friendly competition begin!
Quilt Raffle

Many thanks to The Westside Quilters Guild members for their generous donation of this colorful quilt for the Library to raffle as a fundraiser. Tickets are now on sale and will be sold throughout the coming year until the winning ticket is drawn at the annual Elephant Garlic Festival in August.
Each ticket is $1, or 6 tickets will be issued for $5. This beautiful quilt utilizes a non-traditional pinwheel design. Rather than incorporating traditional half-square triangles, each of the four arms of every pinwheel in this quilt is in the shape of a trapezoid. Each block features a different, brightly colored pinwheel on a white patterned background, and the entire piece is machine-quilted. It measures six feet square.
This quilt will be on display over the Checkout Desk during January and displayed elsewhere in the Library thereafter.
Earn a Donation for the Library through Fred Meyer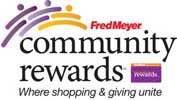 You can help the Friends of the North Plains Public Library just by shopping with your Fred Meyer Rewards Card.
Fred Meyer is donating $2.5 million per year to non-profits in Alaska, Idaho, Oregon and Washington, based on where their customers tell them to give.
Here's how the program works:
Sign up for the Community Rewards program by linking your Fred Meyer Rewards Card to the Friends of the North Plains Public Library. You can search for us by our name or by our non-profit number, 86408. Start here: www.fredmeyer.com/communityrewards
Then, every time you shop and use your Rewards Card, you are helping the Friends of the North Plains Public Library earn a donation!
You still earn your Rewards Points, Fuel Points, and Rebates, just as you do today.
If you do not have a Rewards Card, they are available at the Customer Service desk of any Fred Meyer store.
For more information, please visit www.fredmeyer.com/communityrewards.
Support Our Library with Every Amazon Purchase You Make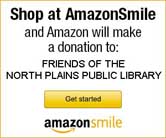 Did you know that Amazon will donate 0.5% of the price of your eligible purchases to the Friends of the North Plains Public Library?
AmazonSmile is a simple and automatic way for you to support the Library every time you shop, at no cost to you. When you shop at smile.amazon.com, you'll find the same low prices, selection, and shopping experience as at amazon.com, with the added bonus that Amazon will donate a portion of the purchase price to the Friends.
Sign up today, and make your choice be the Friends of the North Plains Public Library. Here's how…
Click on the Get Started Button in the Amazon Smile icon image.
Log in with your name and password.
Select the Friends of the North Plains Public Library as your designated charity.
Start shopping!
Bubble-Wrap Drive


Members of the Friends of the Library are collecting donations of small-bubble-sized bubble-wrap. Please bring your clean bubble-wrap donations (no tape attached to it) to the Jessie Mays
Community Hall and put it through the slot to the right of the door to the annex.
Many Thanks to North Plains RV and Self Storage

The Friends of the Library have been given a free storage unit to house books between
sales events. Friends members, city staff, and library staff are very grateful for this donation. We applaud the corporate support shown by owner Jeff Jensen and manager of operations,
John Eisenbarth.