Library Day of Service photos
We are so grateful to the wonderful volunteers who spent a whole day cleaning our library from head to toe.
Lucky Library Barcode Contest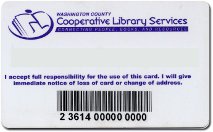 Since 1987, Library Card Sign-up Month has been held each September to mark the beginning of the school year. It is a time when the American Library Association and libraries across the country remind parents that a library card is the most important school supply of all. Stop by the library to get a FREE Library Card!
In North Plains, we celebrate the month with the Lucky Library Barcode Contest. Each week, beginning on September 2, a poster inside the Library will feature a random list of the last three digits of patron barcodes. Patrons who come in during the week and show that their cards have the matching last three numbers will receive their choice of yummy prizes. The list of numbers will change weekly, and the program will last September 2 through October 4!
Blind Date with a Book

Can't decide what to read next? Looking for something new? Let us surprise you.
Choose a specially-wrapped book from our display based on the brief description of the book's genre and age group (teen or adult). Take it home, unwrap, and read! Then, fill out the enclosed review card and bring it back to the Library where it will be entered in a drawing to win a $20 Barnes & Noble gift card. Return the book, and go on another blind date!
Children's Storytime

Children ages 0-6 are invited to participate every Wednesday at 11:30 a.m. in the children's section of the Library.
-September 24 Storytime with Youth Librarian Jackie: Turtles
-October 1 Storytime with Miss Marion: Crazy Creatures
-October 8 Storytime with Children's Librarian Becky: Folktales




Quilt Display

The quilt on display over the checkout desk throughout the month of September was pieced by Roni Andrews of North Plains just before her death on July 8. It was quilted by Stephanie Hinsvark of Red Hot Quilts in Hillsboro.
The pattern is "Mango Tango," designed by Laurie Shifrin. Roni created the quilt for her physician and friend, Judith Kemp of Hillsboro. Roni had been a faithful volunteer at the Library since 2008 and was a member and officer of the Friends of the Library. Her tireless work in the community enriched every area in which she was involved. Roni was also a member of the North Plains Garden Club and a founding member of the Westside Quilters Guild, established in 2006. She will be missed by all who were fortunate to call her friend.



Artwork on Exhibit

The art exhibit on display in September and October will feature Guardian Relics by Patricia Cochran.
"I see my glassed figures as haunting little relics that nod to our common past – a time when we lived in tribes, or clans, or villages and worked together to survive. By placing my figures in groupings, and combining tiny treasures of nature with scraps of fabric and bits of bead, I hope to evoke within the viewer an echo of recognition to an ancient time when ancestral voices sang, a tree was sacred, or the earth was venerated. Art has the power to help quiet our busy lives. It gives us a place to focus our attention and allow the inner voices to speak. It can connect us with our past and those who came before us."
Banned Books Week- Celebrating the Freedom to Read

Banned Books Week is an annual event, and will be held this year from September 21-27. It highlights the value of free and open access to information.
Banned Books Week brings together the entire book community – librarians, booksellers, publishers, journalists, teachers, and readers of all types – in shared support of the freedom to seek and to express ideas, even those some consider unorthodox or unpopular. Come to the Library to see our display celebrating the freedom to read, and watch celebrity videos for the Banned Books Week Virtual Read-Out.
Library Book Club

Join us on Wednesday, September 24 at 7:30 p.m. at the Library to discuss The Goldfinch by Donna Tartt.
It begins with a boy. Theo Decker, a thirteen-year-old New Yorker, miraculously survives an accident that kills his mother. Abandoned by his father, Theo is taken in by the family of a wealthy friend. Bewildered by his strange new home on Park Avenue, disturbed by schoolmates who don't know how to talk to him, and tormented above all by his unbearable longing for his mother, he clings to one thing that reminds him of her: a small, mysteriously captivating painting that ultimately draws Theo into the underworld of art.
As an adult, Theo moves silkily between the drawing rooms of the rich and the dusty labyrinth of an antiques store where he works. He is alienated and in love-and at the center of a narrowing, ever more dangerous circle.
The Goldfinch is a novel of shocking narrative energy and power. It combines unforgettably vivid characters, mesmerizing language, and breathtaking suspense, while plumbing with a philosopher's calm the deepest mysteries of love, identity, and art. It is a beautiful, stay-up-all-night and tell-all-your-friends triumph, an old-fashioned story of loss and obsession, survival and self-invention, and the ruthless machinations of fate.
Coming in October- Beginner Internet Genealogy

Learn how to use Family Search, Heritage Quest, and Ancestry databases. Explore websites such as Find-a-Grave and Cyndy's List. Three FREE classes will be taught by Library staff member Donna.
Call the Library to sign up for one or all classes (503-647-5051):
Wednesday, October 08 – Basic Record-Keeping and Heritage Quest
Wednesday, October 15 – Family Search, Find-a-Grave, and Cyndi's List
Wednesday, October 22 – Ancestry and Wrap-up
Classes will be hands-on. Come prepared with whatever information you have about people you want to find – names, dates and locations of birth, death, and marriage.
Class size is limited to nine public computers.
Earn a Donation for the Library through Fred Meyer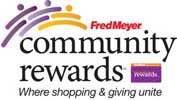 You can help the Friends of the North Plains Public Library just by shopping with your Fred Meyer Rewards Card.
Fred Meyer is donating $2.5 million per year to non-profits in Alaska, Idaho, Oregon and Washington, based on where their customers tell them to give.
Here's how the program works:
Sign up for the Community Rewards program by linking your Fred Meyer Rewards Card to the Friends of the North Plains Public Library. You can search for us by our name or by our non-profit number, 86408. Start here: www.fredmeyer.com/communityrewards
Then, every time you shop and use your Rewards Card, you are helping the Friends of the North Plains Public Library earn a donation!
You still earn your Rewards Points, Fuel Points, and Rebates, just as you do today.
If you do not have a Rewards Card, they are available at the Customer Service desk of any Fred Meyer store.
For more information, please visit www.fredmeyer.com/communityrewards.
Support Our Library with Every Amazon Purchase You Make
Did you know that Amazon will donate 0.5% of the price of your eligible purchases to the Friends of the North Plains Public Library?
AmazonSmile is a simple and automatic way for you to support the Library every time you shop, at no cost to you. When you shop at smile.amazon.com, you'll find the same low prices, selection, and shopping experience as at amazon.com, with the added bonus that Amazon will donate a portion of the purchase price to the Friends.
Sign up today, and make your choice be the Friends of the North Plains Public Library. Here's how…
Click on the Get Started Button in the Amazon Smile icon image.
Log in with your name and password.
Select the Friends of the North Plains Public Library as your designated charity.
Start shopping!
Bubble-Wrap Drive


Members of the Friends of the Library are collecting donations of small-bubble-sized bubble-wrap. Please bring your clean bubble-wrap donations (no tape attached to it) to the Jessie Mays
Community Hall and put it through the slot to the right of the door to the annex.
Many Thanks to North Plains RV and Self Storage

The Friends of the Library have been given a free storage unit to house books between
sales events. Friends members, city staff, and library staff are very grateful for this donation. We applaud the corporate support shown by owner Jeff Jensen and manager of operations,
John Eisenbarth.