Library Book Club

On Wednesday, August 31 beginning at 7 p.m. at the Library, the book A Man Called Ove by Fredrik Backman will be discussed.
From the publisher: "A grumpy yet loveable man finds his solitary world turned on its head when a boisterous young family moves in next door. Meet Ove. He's a curmudgeon, the kind of man who points at people he dislikes as if they were burglars caught outside his bedroom window. He has staunch principles, strict routines, and a short fuse. People call him the bitter neighbor from hell, but must Ove be bitter just because he doesn't walk around with a smile plastered to his face all the time? Behind the cranky exterior there is a story and a sadness. So when one November morning a chatty young couple with two chatty young daughters move in next door and accidentally flatten Ove's mailbox, it is the lead-in to a comical and heartwarming tale of unkempt cats, unexpected friendship, and the ancient art of backing up a U-Haul. All of which will change one cranky old man and a local residents' association to their very foundations."
New members are welcome to attend. Refreshments will be served.
Children's Storytime

Children ages 0-6 are invited to participate every Wednesday at 11:30 a.m. in the children's section of the Library.
–August 31 Storytime with Youth Librarian Jackie: Dragons
–September 7 Storytime with Miss Marion: Books are Good Friends
–September 14 Storytime with Miss Barbara: Dinosaurs
–September 21 Special Guest Storytime: Razor, the Potbellied Pig
–September 28 Storytime with Youth Librarian Jackie: Bugs and Insects

Book Babies Storytimes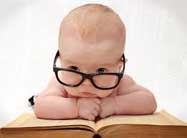 Babies 0-12 months are invited to hear stories, enjoy finger plays, and share songs and rhymes with Early Childhood Specialist Lauren every Wednesday at 10:30 a.m. in the children's section of the library.
First Friday Flick

Join us at the Jessie Mays Community Hall on Friday, September 2 at 6 p.m. for a free showing of a PG-rated, animated action comedy. Find out why an island inhabited by flightless birds becomes the site where green pigs decide to visit. What are they up to?
Popcorn will be served.




Morning Coffee Cart

We want you to think of the North Plains Public Library as your "third" place – the place besides home (number 1) and work (number 2) where residents automatically know to go for meetings, to take classes, to hang out. This is about the LIBRARY being the living room or the front porch of our community.
Although regular library services (computer access, staff assistance) are not available until 10 a.m., we now open our doors every weekday morning at 8 a.m. for you to come have a cup of coffee ($1 for 12 oz, $.50 for refills), read a newspaper (USA Today, Oregonian, Hillsboro Tribune, Hillsboro Argus) or magazines, and check out holds and other library materials on the SelfCheck machine.
Come enjoy our beautiful library and what it has to offer while enjoying a fresh brew, served by our dedicated cadre of Library Volunteers.

Math Help Available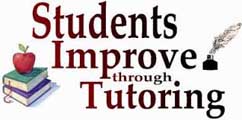 North Plains Public Library now has a math and science tutor to assist students. Volunteer Stacie will be available for two half-hour segments each Tuesday evening, one from 6-6:30 pm and the other from 6:30-7 p.m.. She will help in math from an elementary school level through calculus and in the sciences from an elementary school level through the college level.
Call the library at 503-647-5051 to sign up for a free tutoring session.


NEW Location for the Friends Online Book Sales Project


The Friends of the North Plains Public Library online book sales location has moved from the Jessie Mays Community Hall Annex to the Yellow House across the street from the library. The address is 31311 NW Commercial Street. Here are two ways the Friends can use your help:
1) Bring your donations of gently used Books, DVDs and Audio Books to the Yellow House. Please leave the books on the front porch in the plastic container provided.

2) Join us by giving 2 hours of your time a week to help list books for sale on Amazon. We will teach you how!
Email contact for more information: friendsnppl@gmail.com.
Evergreen Wings & Waves Waterpark

From June 17 through September 5, 2016, you can reserve a one-day use of the Evergreen Wings & Waves membership which admits two individuals into the Waterpark for FREE. The same person may only check out the Waterpark membership once during the summer of 2016; the Waterpark plans to track usage by name. Please note that any other attractions on the Evergreen campus are not included in this Waterpark membership.
This McMinnville, Oregon destination is an indoor, educational waterpark that includes 10 waterslides (ranging from slides for the little ones to slides for daredevils), a wave pool and a hands-on museum with 20+ educational exhibits dedicated to teaching students about the power of water. Slide out of a real Boeing 747 aircraft sitting on the roof, and enjoy a day of educational fun!
See Borrowing Rules for more information about how the pass may be used.
Call 1-503-434-4185 for Waterpark hours, policies and other information or visit the website at www.evergreenmuseum.org/waterpark.
Art Exhibit

The art exhibit in July and August features photographs of the quilts exhibited in the library above the checkout desk during the previous 15 months, April 2015 through June 2016.
The photos were taken and framed by Library Board member Stephanie Farris.





August Quilt Display

The two quilts to be displayed in August are provided by West Side Quilters Guild member LoisMarie Mayer.
Both antique quilts were made by famous children's author Laura Ingalls Wilder and by her friend, Bertie LeCount, both of Mansfield, Missouri, sometime in the late 1930s. Bertie's son and daughter-in-law were Boy Scout friends of LoisMarie and her husband. When Bertie's son passed away, his wife offered LoisMarie these two quilts, and she was delighted to accept.
One quilt is hanging above the checkout desk, and the other is displayed on a quilt rack with a selection of the Little House on the Prairie books by author Wilder.



Writer's Group

This group is currently taking a hiatus. In the fall, it will be determined if members will resume having regular meetings at the library.







Save the Date
Thursday, September 8, 2016 at 6:30 p.m. – Handkerchiefs – The Artful Little Squares of History
Public Library will welcome Terese Blanding of Billings, Montana on Thursday, September 8, 2016 at 6:30 p.m. for a program that explores the wide-ranging historical and literary adventures of hankies, from Shakespeare's Othello to works by Louisa May Alcott, Walt Whitman, Mark Twain, Willa Cather, Truman Capote, Ivan Doig, and Barbara Kingsolver, among others. Blanding will also display her collection of over 1,000 vintage handkerchiefs – little 3-inch squares to one 36-inch square.





Saturday, September 17, 2016 at 1 p.m. – Beatrix Potter – Life and Works
Join us at the North Plains Public Library as we welcome Terese Blanding of Billings, Montana on Saturday, September 17, 2016 at 1 p.m. for a program in which she shares the story of one of the world's most beloved writers and illustrators of children's literature. Helen Beatrix Potter, the creator of The Tale of Peter Rabbit and numerous other well-known books, was born in London during the mid-Victorian era. After enduring an oppressive childhood, she became one of England's most successful writers, naturalists, business-women, and sheep breeders, owning large areas of land in northern England. Included in the program is a display of the many books authored and illustrated by Potter as well as drawings, photos, wallpapers, fabrics, garments, games, porcelain figures, and other memorabilia relating to Potter and her endearing characters.

Earn a Donation for the Library through Fred Meyer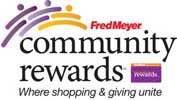 You can help the Friends of the North Plains Public Library just by shopping with your Fred Meyer Rewards Card.
Fred Meyer is donating $2.5 million per year to non-profits in Alaska, Idaho, Oregon and Washington, based on where their customers tell them to give.
Here's how the program works:
Sign up for the Community Rewards program by linking your Fred Meyer Rewards Card to the Friends of the North Plains Public Library. You can search for us by our name or by our non-profit number, 86408. Start here: www.fredmeyer.com/communityrewards
Then, every time you shop and use your Rewards Card, you are helping the Friends of the North Plains Public Library earn a donation!
You still earn your Rewards Points, Fuel Points, and Rebates, just as you do today.
If you do not have a Rewards Card, they are available at the Customer Service desk of any Fred Meyer store.
For more information, please visit www.fredmeyer.com/communityrewards.
Support Our Library with Every Amazon Purchase You Make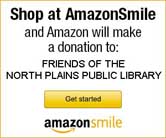 Did you know that Amazon will donate 0.5% of the price of your eligible purchases to the Friends of the North Plains Public Library?
AmazonSmile is a simple and automatic way for you to support the Library every time you shop, at no cost to you. When you shop at smile.amazon.com, you'll find the same low prices, selection, and shopping experience as at amazon.com, with the added bonus that Amazon will donate a portion of the purchase price to the Friends.
Sign up today, and make your choice be the Friends of the North Plains Public Library. Here's how…
Click on the Get Started Button in the Amazon Smile icon image.
Log in with your name and password.
Select the Friends of the North Plains Public Library as your designated charity.
Start shopping!
Bubble-Wrap Drive


Members of the Friends of the Library are collecting donations of small-bubble-sized bubble-wrap. Please bring your clean bubble-wrap donations (no tape attached to it) to the Jessie Mays
Community Hall and put it through the slot to the right of the door to the annex.
Many Thanks to Robinson's Ltd Floral & Events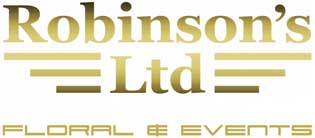 The North Plains Public Library and the Friends of the Library want to thank Nikki Robinson of Robinson's Ltd Floral & Events for her many generous gifts of floral arrangements provided for our Library's receptions and events.
We are very grateful for the community support from our local businesses.





Many Thanks to North Plains RV and Self Storage

The Friends of the Library have been given a free storage unit to house books between sales events. Friends members, city staff, and library staff are very grateful for this donation.
We applaud the corporate support shown by owner Jeff Jensen and manager of operations, John Eisenbarth.