Holiday Craft Fair

Do your holiday shopping at the Library! Local crafters donate their creations to the Library for this annual fundraiser.
Every day the Library is open between December 1-24, there will be a table by the checkout desk of quality, hand-made items available for purchase at bargain prices.
Support the Library by purchasing your holiday gifts from us.
Children's Storytime

Children ages 0-6 are invited to participate every Wednesday at 11:30 a.m. in the children's section of the Library.
-December 24 Special Guest Storytime with Santa Claus!
-December 31 Storytime with Youth Librarian Jackie: Mice
-January 7 Storytime with Miss Marion: Trolls, Gnomes, and Tomtar
-January 14 Storytime with Teacher Barbara: Dinosaurs
-January 21 Special Guest Storytime: Pedrita, the Amazing Bearded Dragon
-January 28 Storytime with Youth Librarian Jackie: Wolves


December Holiday Closures

The Library will close at 3:00 p.m. on Wednesday, December 24 for Christmas Eve and will be closed all day on Thursday, December 25 for Christmas Day.
The Library will close at 5:30 p.m. on Wednesday, December 31 for New Year's Eve and will be closed all day on Thursday, January 1 for New Year's Day.
Knights of Pythias E-books Donation


Many thanks to the members of the North Plains Knights of Pythias Glencoe Lodge No. 22 for their generous donation to the Library in support of our e-reader program. The Knights previously purchased a Nook and a Kindle for public checkout. Each was loaded with approximately 25 titles in fiction and non-fiction for adults, teens, and children.
This month, the Knights funded the purchase of ten more unique bestseller titles for each device. The Library's e-readers check out for three weeks, and staff are available to introduce the devices to those who have yet to enjoy reading books through this new technology.
Artwork on Exhibit

The art exhibit on display in December in the Library features a variety of images by photographer Charlie Hyman that focus on the west coast and on the fall and winter seasons.
Hyman lives in a small town south of Portland, and he spends many vacations traveling with his wife around the country in his camper, taking pictures. He has been photographing since he was about seven years old. "Grand landscapes and up-close details capture my attention most often, but I enjoy photographing all subjects. I'm also drawn to lines, textures, and geometric shapes, especially around cities. I love natural subjects and try my best to show them in an interesting and captivating way." Quote from the artist To view his work online, visit his website at www.charliehymanphoto.org/.
Quilt Display

The holiday quilt on display over the checkout desk throughout the month of December is titled, Deck-Ade the Halls (using 10 fabrics, in 10 blocks, and celebrating 10 years of existence for the Fat Quarter Shop in Manchaca, TX).
It was made by Westside Quilters Guild member, Marcia Elliott.
Writer's Group
The December 4 meeting has been cancelled, and the January meeting has been rescheduled.
Share your writing projects and receive feedback from peers on Thursday, January 8 at 6:30 p.m. New members are welcome to join. (This is not a teacher/trainer-led class.)
Check out this link to Creative Writing Prompts!
Save the Date – Saturday, Jan 24, 7 p.m.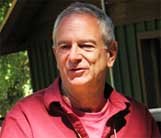 The Friends of the North Plains Public Library will host the first event of its "An Evening with an Author" series at the Library.
The well-known Oregon author, Robin Cody, has been invited to launch this new, free program. Robin Cody is the author of "Ricochet River" and "Voyage of a Summer Sun", both of which have won awards.
You won't want to miss this delightful evening meeting a great Oregon author.
Quilt Raffle

A beautiful quilt has been donated by The Westside Quilters Guild for the Library's annual fundraising raffle. Tickets are now on sale and will be sold throughout the coming year until the winning ticket is drawn at the annual Elephant Garlic Festival in August. Each ticket is $1, or 6 tickets will be issued for $5.
This beautiful quilt utilizes a non-traditional pinwheel design. Rather than incorporating traditional half-square triangles, each of the four arms of every pinwheel in this quilt is in the shape of a trapezoid. Each block features a different, brightly colored pinwheel on a white patterned background, and the entire piece is machine-quilted. It measures six feet square. Half of the backing is in a Kelly green pattern, while the other half is a floral print; a row of pinwheels has been included down the middle of the reverse side. This quilt will be continuously on display in the Library for the next eight months.
2015 Teen Summer Reading Art Contest

Are you an artist who also happens to be age 12-18? Submit a design to our Teen Summer Reading Artwork Contest!
The winning design will be used on 2015 Teen Summer Reading program materials across Washington County, including posters, bookmarks, flyers and more.
The winner also receives a $150 gift certificate for Powell's Books. The second place winner receives a $50 gift certificate for Blick Art Materials, and the winner of honorable mention will get a $25 Blick gift certificate.
The contest opens Friday, January 2, 2015, and the last day to submit your entry is Saturday, February 14, 2015. Click here to get all of the contest details and the entry form (PDF). Good luck!
Earn a Donation for the Library through Fred Meyer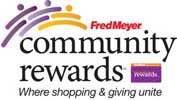 You can help the Friends of the North Plains Public Library just by shopping with your Fred Meyer Rewards Card.
Fred Meyer is donating $2.5 million per year to non-profits in Alaska, Idaho, Oregon and Washington, based on where their customers tell them to give.
Here's how the program works:
Sign up for the Community Rewards program by linking your Fred Meyer Rewards Card to the Friends of the North Plains Public Library. You can search for us by our name or by our non-profit number, 86408. Start here: www.fredmeyer.com/communityrewards
Then, every time you shop and use your Rewards Card, you are helping the Friends of the North Plains Public Library earn a donation!
You still earn your Rewards Points, Fuel Points, and Rebates, just as you do today.
If you do not have a Rewards Card, they are available at the Customer Service desk of any Fred Meyer store.
For more information, please visit www.fredmeyer.com/communityrewards.
Support Our Library with Every Amazon Purchase You Make
Did you know that Amazon will donate 0.5% of the price of your eligible purchases to the Friends of the North Plains Public Library?
AmazonSmile is a simple and automatic way for you to support the Library every time you shop, at no cost to you. When you shop at smile.amazon.com, you'll find the same low prices, selection, and shopping experience as at amazon.com, with the added bonus that Amazon will donate a portion of the purchase price to the Friends.
Sign up today, and make your choice be the Friends of the North Plains Public Library. Here's how…
Click on the Get Started Button in the Amazon Smile icon image.
Log in with your name and password.
Select the Friends of the North Plains Public Library as your designated charity.
Start shopping!
Bubble-Wrap Drive


Members of the Friends of the Library are collecting donations of small-bubble-sized bubble-wrap. Please bring your clean bubble-wrap donations (no tape attached to it) to the Jessie Mays
Community Hall and put it through the slot to the right of the door to the annex.
Many Thanks to North Plains RV and Self Storage

The Friends of the Library have been given a free storage unit to house books between
sales events. Friends members, city staff, and library staff are very grateful for this donation. We applaud the corporate support shown by owner Jeff Jensen and manager of operations,
John Eisenbarth.