Library Book Club

The Book Club will meet at the Library on Wednesday, April 29 beginning at 7:30 p.m. to discuss A Map of Betrayal by Ha Jin.
This riveting tale of espionage and conflicted loyalties spans half a century and entails the entwined histories of two countries – China and the United States – and of two families. A diary of secrets reveals the life of a double agent and his dilemma of loyalty to the motherland and love for his adopted country.
New members are welcome. Refreshments will be served.



Children's Storytime

Children ages 0-6 are invited to participate every Wednesday at 11:30 a.m. in the children's section of the Library.
–April 29 Storytime with Youth Librarian Jackie: Monkeys
–May 6 Storytime with Miss Marion: April Showers Bring May Flowers
–May 13 Storytime with Teacher Barbara: Noise
–May 20 Special Guest Storytime: Chickens Galore!
–May 27 Storytime with Youth Librarian Jackie: Bugs and Insects
First Friday Flick

Join us on the first Friday of each month at the Jessie Mays Community Hall at 6 p.m. for a FREE movie showing. On Friday, May 1, come watch a PG-rated Disney comedy based on the 1972 book. The family's day begins with gum stuck in his hair, followed by more calamities. The rest of his family is unsympathetic until each is plagued by his and her own very bad and hilarious day!
All ages welcome. Popcorn is provided.
Free Comic Books!

Celebrate and discover the amazing world of comic books! Stop by the Library between 11 a.m. and 4 p.m. on Saturday, May 2, during North Plains' citywide Garage Sale Madness Day, to receive your own free comic book provided by Diamond Comic Book Distributors.
Free Comic Book Day is an annual event sponsored across North America by participating comic book specialty shops.
Friends of the Library Book Sale

Also on Saturday, May 2, the Friends will sell a selection of used books in conjunction with Free Comic Book Day. The Sale will take place in front of the Library on Commercial Street, weather permitting, or inside the Library, from 11 a.m. to 4 p.m.
This is a preview of the Friends' HUGE book sale to come during the Elephant Garlic Festival in August.





Fourth Annual Haiku Contest

Celebrate National Poetry Month with us this April. Enter your haiku poems from April 1-27
This year's theme is Super Heroes – recognizing the new movie, Avengers: Age of Ultron, to be released on May 1. Contest winners from each of three age groups (K-6, 7-12, Adult) will receive $20 gift certificates to Regal Cinemas. Check out this link to Haiku books in our WCCLS catalog.
Beginner Internet Genealogy

Learn how to use Heritage Quest and Ancestry databases. Explore websites such as Family Search and Find-a-Grave. Three FREE classes will be taught by Library staff member Donna from 6-8 p.m. on consecutive Thursday nights.
Class size is limited to nine people using Library computers and four people using their own laptops. Participants must commit to all three classes. Call the Library to sign up (503-647-5051):
April 16 Basic Record-Keeping and Heritage Quest
April 23 Family Search and Find-a-Grave
April 30 Ancestry (not accessible from laptops) and Wrap-up
Classes will be hands-on. Come prepared with whatever information you have about people you want to find – names, dates and locations of birth, death, and marriage.
Quilt Display

The quilt on display above the checkout desk throughout the month of April will be Tulip Quilt, owned by Jean Noltensmeier and purchased in Monroe, WA in 2009.
Its provenance is unknown, but its maker used mid-1900s reproduction fabrics to create a multicolored sampler bordered in blue and white. It contains both pieced and appliqued squares and is machine quilted, measuring 60″ x 88″
Artwork on Exhibit

The art exhibit continuing through April features works by Anne Marie Grgich, a Seattle-based collage artist with national and international acclaim. Grgich is known as one of the most innovative American artists in the group known as Outsiders. Her one-of-a-kind art features faces and figures.
Staff Spotlight: Sam Ramirez

Sam Ramirez obtained his degree in Information Technology from ITT Tech and has been providing technical support at North Plains for the past five years. Although in recent months, he joined the Information Services Department with the City of Hillsboro as a full time IS Technician, he continues to work part time for North Plains and still provides technical support for the Library.
Sam has enjoyed the time he has been with the North Plains Library, and continues to be actively involved with library and city events, including the 2014 Hood-to-Coast relay team. One of his favorite library events is the First Friday Flick, which he helped organize over three years ago and continues to facilitate every month.
Sam has also passed on his passion for the library to his now seven-year old son, Julian, who has been visiting libraries since before he could walk. As a junior volunteer, Julian has already come to know that the library is one of the best places to visit, and he is eager to help wherever he can. Apart from the library, Sam enjoys being outdoors and staying active. His favorites "reads" are non-fiction books in history and science.
Results from Our Patron Survey

Results are in from our recent Patron Survey. We want to thank everyone for giving us your input and we hope to put this information to good use in the coming year. Take a look at what we learned from our survey. Survey Responses!
Thank You Epson Portland, Inc.

The Friends of the North Plains Public Library wish to acknowledge and thank Dave and Emi Graham and Epson Portland, Inc. for the generous donation of a new Epson printer! It will be used by the Friends for their online book sales program which is conducted from the Jessie Mays Community Hall annex and which netted $2,500 this past year for the Library. Many thanks to the Grahams and Epson for helping with this fundraising program!
Quilt Raffle

Many thanks to The Westside Quilters Guild members for their generous donation of this colorful quilt for the Library to raffle as a fundraiser. Tickets are now on sale and will be sold throughout the coming year until the winning ticket is drawn at the annual Elephant Garlic Festival in August.
Each ticket is $1, or 6 tickets will be issued for $5. This beautiful quilt utilizes a non-traditional pinwheel design. Rather than incorporating traditional half-square triangles, each of the four arms of every pinwheel in this quilt is in the shape of a trapezoid. Each block features a different, brightly colored pinwheel on a white patterned background, and the entire piece is machine-quilted. It measures six feet square.
This quilt will be on display over the Checkout Desk during January and displayed elsewhere in the Library thereafter.
Earn a Donation for the Library through Fred Meyer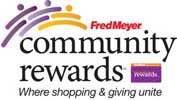 You can help the Friends of the North Plains Public Library just by shopping with your Fred Meyer Rewards Card.
Fred Meyer is donating $2.5 million per year to non-profits in Alaska, Idaho, Oregon and Washington, based on where their customers tell them to give.
Here's how the program works:
Sign up for the Community Rewards program by linking your Fred Meyer Rewards Card to the Friends of the North Plains Public Library. You can search for us by our name or by our non-profit number, 86408. Start here: www.fredmeyer.com/communityrewards
Then, every time you shop and use your Rewards Card, you are helping the Friends of the North Plains Public Library earn a donation!
You still earn your Rewards Points, Fuel Points, and Rebates, just as you do today.
If you do not have a Rewards Card, they are available at the Customer Service desk of any Fred Meyer store.
For more information, please visit www.fredmeyer.com/communityrewards.
Support Our Library with Every Amazon Purchase You Make
Did you know that Amazon will donate 0.5% of the price of your eligible purchases to the Friends of the North Plains Public Library?
AmazonSmile is a simple and automatic way for you to support the Library every time you shop, at no cost to you. When you shop at smile.amazon.com, you'll find the same low prices, selection, and shopping experience as at amazon.com, with the added bonus that Amazon will donate a portion of the purchase price to the Friends.
Sign up today, and make your choice be the Friends of the North Plains Public Library. Here's how…
Click on the Get Started Button in the Amazon Smile icon image.
Log in with your name and password.
Select the Friends of the North Plains Public Library as your designated charity.
Start shopping!
Bubble-Wrap Drive


Members of the Friends of the Library are collecting donations of small-bubble-sized bubble-wrap. Please bring your clean bubble-wrap donations (no tape attached to it) to the Jessie Mays
Community Hall and put it through the slot to the right of the door to the annex.
Many Thanks to North Plains RV and Self Storage

The Friends of the Library have been given a free storage unit to house books between
sales events. Friends members, city staff, and library staff are very grateful for this donation. We applaud the corporate support shown by owner Jeff Jensen and manager of operations,
John Eisenbarth.