Children's Storytime

Children ages 0-6 are invited to participate every Wednesday at 11:30 a.m. in the children's section of the Library.
-October 1 Storytime with Miss Marion: Crazy Creatures
-October 8 Storytime with Children's Librarian Becky: Folktales
-October 15 Special Guest Storytime: Officer Brennan and K9 Rikko
-October 22 Storytime with Youth Librarian Jackie: Farms
-October 29 Storytime with Youth Librarian Jackie: Owls


Writer's Group
Share your writing projects and receive feedback from peers on Thursday, October 2 at 6:30 p.m.
New members are welcome to join. (This is not a teacher/trainer-led class.) Check out this link to Creative Writing Prompts!





First Friday Flick

Join us on the first Friday of each month at the Jessie Mays Community Hall at 30975 NW Hillcrest Street at 6 p.m. for a FREE movie showing.
On Friday, October 3, come for a DOUBLE FEATURE! First see an animated family adventure film in which a group of friends takes a road trip into bayou country to attend a vampire festival. Then watch a G-rated animation adventure that first premiered as a television Halloween special.
NEW 3M Cloud Library

Interested in free e-books from WCCLS, but wish they were easier to use? Join in the celebration of the launch of a "new branch" of e-books for all patrons this week.
Learn how to use 3M Cloud Library on your device. The 3M Cloud Library features a new and streamlined checkout process integrated with the services you already use. Search, place holds and check-out items all from inside your account in the WCCLS catalog. Features content previously unavailable in e-book format.
The collection will be for WCCLS patrons only so we anticipate wait time to be shorter for many popular titles. Ask Staff for more details!
Beginner Internet Genealogy

Learn how to use Family Search, Heritage Quest, and Ancestry databases. Explore websites such as Find-a-Grave and Cyndi's List.
Three FREE classes will be taught by Library staff member Donna. Call the Library to sign up for one or all classes (503-647-5051).
-October 8 – 9:30 to 10:30 – Basic Record-Keeping and Heritage Quest
-October 15 – 9:30 to 10:30 – Family Search, Find-a-Grave, and Cyndi's List
-October 22 – 9:30 to 10:30 – Ancestry and Wrap-up
Super Saturdays

Super Saturdays are free, hour-long performances for children and their families held at the Jesse Mays Community Hall at 30975 NW Hillcrest Street on the second Saturday of most months at 1 p.m. during the school year.
The October 11 Super Saturday will feature BJ the Clown. All ages are welcome to enjoy an exciting hour of comedy, juggling, magic, music, storytelling, puppetry, and audience participation – a high-energy show that children will talk about for months!
DVDs Now on 21-Day Checkout


The Library's new adult and new children's movies will continue to check out for 7 days, but all of the main adult movie collection and all of the main children's movie collection will now be checked out for 21 days. This will allow our North Plains patrons longer time to view their favorite movies, and it is consistent with other libraries' practices within the WCCLS system.
Friends of the Library – NO Meetings Required

There are no obligations to becoming a Friend of the North Plains Public Library. Your membership dues go straight into the Friends' coffers that help fund our Library in a variety of ways. The Friends of North Plains Public Library is a totally volunteer organization, so administrative costs = zero.
Each year the Friends donate thousands of dollars, which go toward library materials, library programs for both children and adults, library building support, special library collections, and community outreach.
Did you know that just by sending in a Friends of North Plains Public Library membership, you are part of a ten-year organization that was instrumental in building our exceptional library structure? • Consider joining the Friends at any level, starting at just $15 for an individual membership, $25 for a family. Your tax-deductible dues allow you to support the library with no obligation, other than the claim that you are a Friend of the North Plains Public Library.
Click HERE to download a copy of the membership form, or visit the Friends' page at the library's website or contact the Friends by email: Friendsnppl@gmail.com or snail mail: PO BOX 525, North Plains, OR 97133.
There will be a general meeting of the Friends on Monday, October 13 at the Library from 7:30-9 p.m. New members are welcome to attend.
Artwork on Exhibit

The art exhibit on display in September and October will feature Guardian Relics by Patricia Cochran.
"I see my glassed figures as haunting little relics that nod to our common past – a time when we lived in tribes, or clans, or villages and worked together to survive. By placing my figures in groupings, and combining tiny treasures of nature with scraps of fabric and bits of bead, I hope to evoke within the viewer an echo of recognition to an ancient time when ancestral voices sang, a tree was sacred, or the earth was venerated. Art has the power to help quiet our busy lives. It gives us a place to focus our attention and allow the inner voices to speak. It can connect us with our past and those who came before us."
Library Board Meeting

The Library Board will meet this month on October 21 at 6:00 p.m. at the Banks Public Library.
The public is welcome to attend and the agenda will be available a week prior to the meeting.
Quilt Display

The October quilt on display above the checkout desk was created by Nancy Stober, a member of the Westside Quilters Guild.
This Halloween themed work of art, entitled "Cats Go Trick or Treat," will be an all-time favorite. Nancy: "I have always loved Halloween and have stacks of Halloween fabric. This was a panel I had had for a quite a while and then found a pattern using the exact panel. I love the checkerboard X design. It was a new challenge at the time and gave me more confidence in piecing."





Library Book Club

Join us on Wednesday, October 29 at 7:30 p.m. at the Library to discuss The Paris Wife by Paula McLain.
A deeply evocative story of ambition and betrayal, The Paris Wife captures a remarkable period of time and a love affair between two unforgettable people: Ernest Hemingway and his wife Hadley.
Chicago, 1920: Hadley Richardson is a quiet twenty-eight-year-old who has all but given up on love and happiness—until she meets Ernest Hemingway and her life changes forever. Following a whirlwind courtship and wedding, the pair set sail for Paris, where they become the golden couple in a lively and volatile group—the fabled "Lost Generation"—that includes Gertrude Stein, Ezra Pound, and F. Scott and Zelda Fitzgerald.
A heartbreaking portrayal of love and torn loyalty, The Paris Wife is all the more poignant because we know that, in the end, Hemingway wrote that he would rather have died than fallen in love with anyone but Hadley.
Earn a Donation for the Library through Fred Meyer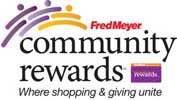 You can help the Friends of the North Plains Public Library just by shopping with your Fred Meyer Rewards Card.
Fred Meyer is donating $2.5 million per year to non-profits in Alaska, Idaho, Oregon and Washington, based on where their customers tell them to give.
Here's how the program works:
Sign up for the Community Rewards program by linking your Fred Meyer Rewards Card to the Friends of the North Plains Public Library. You can search for us by our name or by our non-profit number, 86408. Start here: www.fredmeyer.com/communityrewards
Then, every time you shop and use your Rewards Card, you are helping the Friends of the North Plains Public Library earn a donation!
You still earn your Rewards Points, Fuel Points, and Rebates, just as you do today.
If you do not have a Rewards Card, they are available at the Customer Service desk of any Fred Meyer store.
For more information, please visit www.fredmeyer.com/communityrewards.
Support Our Library with Every Amazon Purchase You Make
Did you know that Amazon will donate 0.5% of the price of your eligible purchases to the Friends of the North Plains Public Library?
AmazonSmile is a simple and automatic way for you to support the Library every time you shop, at no cost to you. When you shop at smile.amazon.com, you'll find the same low prices, selection, and shopping experience as at amazon.com, with the added bonus that Amazon will donate a portion of the purchase price to the Friends.
Sign up today, and make your choice be the Friends of the North Plains Public Library. Here's how…
Click on the Get Started Button in the Amazon Smile icon image.
Log in with your name and password.
Select the Friends of the North Plains Public Library as your designated charity.
Start shopping!
Bubble-Wrap Drive


Members of the Friends of the Library are collecting donations of small-bubble-sized bubble-wrap. Please bring your clean bubble-wrap donations (no tape attached to it) to the Jessie Mays
Community Hall and put it through the slot to the right of the door to the annex.
Many Thanks to North Plains RV and Self Storage

The Friends of the Library have been given a free storage unit to house books between
sales events. Friends members, city staff, and library staff are very grateful for this donation. We applaud the corporate support shown by owner Jeff Jensen and manager of operations,
John Eisenbarth.