Trick or Treat at the Library

Come to the Library on Friday, Oct. 31 in costume to receive a Halloween "Trick or Treat" surprise.
Children's Storytime

Children ages 0-6 are invited to participate every Wednesday at 11:30 a.m. in the children's section of the Library.
-November 5 Storytime with Miss Marion: Colors Galore
-November 12Storytime with Teacher Barbara: Oceans





NEW 3M Cloud Library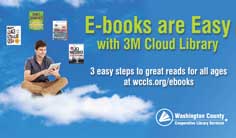 Interested in free e-books from WCCLS, but wish they were easier to use? Join in the celebration of the launch of a "new branch" of e-books for all patrons this week.
Learn how to use 3M Cloud Library on your device. The 3M Cloud Library features a new and streamlined checkout process integrated with the services you already use. Search, place holds and check-out items all from inside your account in the WCCLS catalog. Features content previously unavailable in e-book format.
The collection will be for WCCLS patrons only so we anticipate wait time to be shorter for many popular titles. Ask Staff for more details!
DVDs Now on 21-Day Checkout


The Library's new adult and new children's movies will continue to check out for 7 days, but all of the main adult movie collection and all of the main children's movie collection will now be checked out for 21 days. This will allow our North Plains patrons longer time to view their favorite movies, and it is consistent with other libraries' practices within the WCCLS system.
Artwork on Exhibit

The art exhibit on display in September and October will feature Guardian Relics by Patricia Cochran.
"I see my glassed figures as haunting little relics that nod to our common past – a time when we lived in tribes, or clans, or villages and worked together to survive. By placing my figures in groupings, and combining tiny treasures of nature with scraps of fabric and bits of bead, I hope to evoke within the viewer an echo of recognition to an ancient time when ancestral voices sang, a tree was sacred, or the earth was venerated. Art has the power to help quiet our busy lives. It gives us a place to focus our attention and allow the inner voices to speak. It can connect us with our past and those who came before us."
Quilt Display

The October quilt on display above the checkout desk was created by Nancy Stober, a member of the Westside Quilters Guild.
This Halloween themed work of art, entitled "Cats Go Trick or Treat," will be an all-time favorite. Nancy: "I have always loved Halloween and have stacks of Halloween fabric. This was a panel I had had for a quite a while and then found a pattern using the exact panel. I love the checkerboard X design. It was a new challenge at the time and gave me more confidence in piecing."





Earn a Donation for the Library through Fred Meyer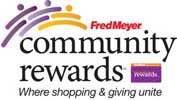 You can help the Friends of the North Plains Public Library just by shopping with your Fred Meyer Rewards Card.
Fred Meyer is donating $2.5 million per year to non-profits in Alaska, Idaho, Oregon and Washington, based on where their customers tell them to give.
Here's how the program works:
Sign up for the Community Rewards program by linking your Fred Meyer Rewards Card to the Friends of the North Plains Public Library. You can search for us by our name or by our non-profit number, 86408. Start here: www.fredmeyer.com/communityrewards
Then, every time you shop and use your Rewards Card, you are helping the Friends of the North Plains Public Library earn a donation!
You still earn your Rewards Points, Fuel Points, and Rebates, just as you do today.
If you do not have a Rewards Card, they are available at the Customer Service desk of any Fred Meyer store.
For more information, please visit www.fredmeyer.com/communityrewards.
Support Our Library with Every Amazon Purchase You Make
Did you know that Amazon will donate 0.5% of the price of your eligible purchases to the Friends of the North Plains Public Library?
AmazonSmile is a simple and automatic way for you to support the Library every time you shop, at no cost to you. When you shop at smile.amazon.com, you'll find the same low prices, selection, and shopping experience as at amazon.com, with the added bonus that Amazon will donate a portion of the purchase price to the Friends.
Sign up today, and make your choice be the Friends of the North Plains Public Library. Here's how…
Click on the Get Started Button in the Amazon Smile icon image.
Log in with your name and password.
Select the Friends of the North Plains Public Library as your designated charity.
Start shopping!
Bubble-Wrap Drive


Members of the Friends of the Library are collecting donations of small-bubble-sized bubble-wrap. Please bring your clean bubble-wrap donations (no tape attached to it) to the Jessie Mays
Community Hall and put it through the slot to the right of the door to the annex.
Many Thanks to North Plains RV and Self Storage

The Friends of the Library have been given a free storage unit to house books between
sales events. Friends members, city staff, and library staff are very grateful for this donation. We applaud the corporate support shown by owner Jeff Jensen and manager of operations,
John Eisenbarth.