Children's Storytime

Children ages 0-6 are invited to participate every Wednesday at 11:30 a.m. in the children's section of the Library.
-August 27 Storytime with Librarian Rick Samuelson: Colors
-September 3 Storytime with Miss Marion: School Daze
-September 10 Storytime with Children's Librarian Becky: Silly Animals
-September 17 Special Guest Storytime: Metro West Ambulance
-September 24 Storytime with Youth Librarian Jackie: Turtles


Summer Reading Programs Ends August 30

Summer Reading Programs for All Ages ends August 30. This will be the last day to hand in your Summer Reading log and collect cool prizes!
You may also hand them in early if you want.












Quilt Display

The quilt on display over the checkout desk throughout the month of August was created just this past winter by local resident Jo Ann Tannock.
Titled "Star of the Orient," it features a black background with stars of solid colors and was machine-pieced and hand-quilted. This is the 3rd Star of the Orient that she has made. Quite a project with 47 pieces for each block and 48 blocks in the quilt! Some of the pieces are 1 x 1 inch.





Quilt Raffle Winner Announced!

The lucky person who entered our Quilt Raffle this year was Sharon Brahm, of Tigard. She bought her lucky ticket at the Strawberry Festival!
Many thanks go to the Westside Quilters Guild for donating this lovely quilt which was raffled this year and drawn for at the Garlic Festival this past weekend.
Congratulations Sharon!




Artwork on Exhibit

The art exhibit on display in the Library from July 5 to September 5 will feature historic North Plains Elephant Garlic Festival posters – one for each of the 17 years the festival has occurred.
The creator of nine of these colorful posters was Brenna White of Tualatin, a working artist who paints original work, commissions, and murals. This year's festival will take place on August 8, 9, and 10 at Jessie Mays Community Park in North Plains. For more information and a peek at this year's poster by Brenna White, Click Here.





Friends of the Library – NO Meetings Required

There are no obligations to becoming a Friend of the North Plains Public Library. Your membership dues go straight into the Friends' coffers that help fund our Library in a variety of ways. The Friends of North Plains Public Library is a totally volunteer organization, so administrative costs = zero.
Each year the Friends donate thousands of dollars, which go toward library materials, library programs for both children and adults, library building support, special library collections, and community outreach.
Did you know that just by sending in a Friends of North Plains Public Library membership, you are part of a ten-year organization that was instrumental in building our exceptional library structure? • Consider joining the Friends at any level, starting at just $15 for an individual membership, $25 for a family. Your tax-deductible dues allow you to support the library with no obligation, other than the claim that you are a Friend of the North Plains Public Library.
Click HERE to download a copy of the membership form, or visit the Friends' page at the library's website or contact the Friends by email: Friendsnppl@gmail.com or snail mail: PO BOX 525, North Plains, OR 97133.
Returning in September – Lucky Barcode Number Contest

Library Card Sign-up Month is held each September to mark the beginning of the school year, and the North Plains Public Library celebrates with a weekly contest featuring yummy prizes.
Watch for it – September 2 through October 4!




Library Book Club

This group takes a summer break in July and August.
Join us next on Wednesday, September 24 at 7:30 p.m. at the Library to discuss The Goldfinch by Donna Tartt.
Earn a Donation for the Library through Fred Meyer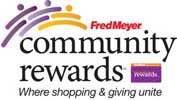 You can help the Friends of the North Plains Public Library just by shopping with your Fred Meyer Rewards Card.
Fred Meyer is donating $2.5 million per year to non-profits in Alaska, Idaho, Oregon and Washington, based on where their customers tell them to give.
Here's how the program works:
Sign up for the Community Rewards program by linking your Fred Meyer Rewards Card to the Friends of the North Plains Public Library. You can search for us by our name or by our non-profit number, 86408. Start here: www.fredmeyer.com/communityrewards
Then, every time you shop and use your Rewards Card, you are helping the Friends of the North Plains Public Library earn a donation!
You still earn your Rewards Points, Fuel Points, and Rebates, just as you do today.
If you do not have a Rewards Card, they are available at the Customer Service desk of any Fred Meyer store.
For more information, please visit www.fredmeyer.com/communityrewards.
Support Our Library with Every Amazon Purchase You Make
Did you know that Amazon will donate 0.5% of the price of your eligible purchases to the Friends of the North Plains Public Library?
AmazonSmile is a simple and automatic way for you to support the Library every time you shop, at no cost to you. When you shop at smile.amazon.com, you'll find the same low prices, selection, and shopping experience as at amazon.com, with the added bonus that Amazon will donate a portion of the purchase price to the Friends.
Sign up today, and make your choice be the Friends of the North Plains Public Library. Here's how…
Click on the Get Started Button in the Amazon Smile icon image.
Log in with your name and password.
Select the Friends of the North Plains Public Library as your designated charity.
Start shopping!
Regal Movie Theater Donation

Once again Regal Movies on TV Stadium 16 has generously offered to donate popcorn for all of our 2014 Summer Reading Program Events.
We wish to thank them publicly for this generous donation by promoting their special Spider-Man 2 Event the weekend of May 2nd. This event will coincide with the opening of the new movie, Spider-Man 2.
The Regal Movies on TV Stadium 16 is located at 2929 SW 234th Ave. in Hillsboro. For tickets or more information, you can call them at 503.259.9226.
Bubble-Wrap Drive


Members of the Friends of the Library are collecting donations of small-bubble-sized bubble-wrap. Please bring your clean bubble-wrap donations (no tape attached to it) to the Jessie Mays
Community Hall and put it through the slot to the right of the door to the annex.
Many Thanks to North Plains RV and Self Storage

The Friends of the Library have been given a free storage unit to house books between
sales events. Friends members, city staff, and library staff are very grateful for this donation. We applaud the corporate support shown by owner Jeff Jensen and manager of operations,
John Eisenbarth.