Children's Storytime

Children ages 0-6 are invited to participate every Wednesday at 11:30 a.m. in the children's section of the Library.
–November 25 Storytime with Youth Librarian Jackie: Bears
–December 2 Storytime with Miss Marion: Ribbons and Bows
–December 9 Storytime with Teacher Barbara: Seasons
–December 16 Storytime with Lauren: Silly People
–December 23 Special Guest Storytime: Santa Claus!
–December 30 Storytime with Youth Librarian Jackie: Ducks

Library Book Club

The Book Club will meet at the Library on Wednesday, November 25, at 7 p.m. to discuss The Rosie Project by Graeme Simsion.
In this quirky, romantic novel, Don Tillman, a socially inept professor of genetics, designs a 16-page questionnaire to help him find the perfect wife. He is determined that she will not be a barmaid, a smoker, a drinker, or a late-arriver. Then he meets Rosie, who is all of these. As they collaborate in the quest to find her biological father, an unlikely relationship develops, proving to the professor that people do not find love; it finds them.
New members are welcome to attend.

Holiday Closure

The Library will close at 5:00 p.m. on Thanksgiving Eve, Wednesday, November 25.
The Library will be closed on Thursday, November 26 in honor of Thanksgiving Day.




First Friday Flick

Join us at Jessie Mays Community Hall on Friday, December 4 at 6 p.m. to watch the PG-rated family comedy about a baby in an orphanage who stowed away in Santa's sack and ended up at the North Pole.
Popcorn will be served.




Writer's Group

Share your writing projects and receive feedback from peers on Thursday, December 10 at 6:30 p.m. Note the one-time date change from the usual first Thursday.
New members are welcome to join. (This is not a teacher/trainer-led class.)
Check out this link to Creative Writing Prompts!



Free Math and Science Tutoring

North Plains Public Library now has a Math and Science Tutor available to assist students every other Saturday.
Math tutoring is available for students in elementary through college grade levels. Science tutoring is available for elementary and middle school grade levels.
Please call the library at 503-647-5051 to make a reservation.


November Quilt Display

The quilt on display above the checkout desk throughout the month of November is by local resident Toni Beattie.
She explains, "The quilt started as a block of the month for the Westside Quilters Guild. It was soon realized that it was a much bigger and more complex project than originally imagined. A couple of the members chose to continue on anyway. I started with a basic bird fabric which can be seen on the back of the quilt and chose all the remaining fabrics based on that initial pick. I wanted to use as many fabrics as I could to maximize interest. The original pattern called for appliqued birds, but I chose to use embroidered birds instead. I tried to find embroidered bird patterns that were close to the species used in the pattern. As the quilt neared completion, it really came to life. The final step was the fabulous quilting done by Marci Yoder. She did a marvelous job and really helped to make this quilt shine."


Patricia Cochran "Neighborhood Friends" Artwork on Exhibit

Patricia Cochran, artist and retired Hillsboro art educator, will be exhibiting paintings of six of her "Neighborhood Friends" at the North Plains Public Library through the months of November and December, 2015.
"Neighborhood Friends" focuses on various animals from the farms that surround the artist's home near Roy, Oregon. "As an artist, I'm naturally observant, and I enjoy watching all the animals, where they are in the pastures at different times of the day, how they will tilt a head, or stare at something in the distance." Cochran laughs and says that in many cases she's gotten to know the animals better than their owners. Her show will feature six watercolors, each 16" x 20" framed, and each horizontally oriented. Her subjects are Pig, Goat, Chicken, Alpaca, Cow, and Rabbit and will be for sale.

North Plains Garden Club Donates Books!

Many thanks to the North Plains Community Garden Club members for their generous donation of 34 new books for the collection.
The books include several on hiking and camping in Oregon, on gardening and plant identification, on rockhounding, on hot springs in Oregon, on bees and butterflies, insects, reptiles, and other wildlife of the Pacific Northwest, and on tracking and identifying animals.
We are most grateful that the Garden Club helps to keep our collection current and relevant.


New Quilt Raffle


Many thanks to Westside Quilters Guild members for their generous donation of a new, colorful quilt for the Library to raffle as a fundraiser.
Tickets are now on sale and will be sold throughout the coming year until the winning ticket is drawn at the annual Elephant Garlic Festival in August 2016. Each ticket is $1, or 6 tickets will be issued for $5. This year's beautiful quilt was created by Marcia Elliott and is titled Japanese Lanterns. It will be continuously on display in the Library.


Earn a Donation for the Library through Fred Meyer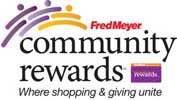 You can help the Friends of the North Plains Public Library just by shopping with your Fred Meyer Rewards Card.
Fred Meyer is donating $2.5 million per year to non-profits in Alaska, Idaho, Oregon and Washington, based on where their customers tell them to give.
Here's how the program works:
Sign up for the Community Rewards program by linking your Fred Meyer Rewards Card to the Friends of the North Plains Public Library. You can search for us by our name or by our non-profit number, 86408. Start here: www.fredmeyer.com/communityrewards
Then, every time you shop and use your Rewards Card, you are helping the Friends of the North Plains Public Library earn a donation!
You still earn your Rewards Points, Fuel Points, and Rebates, just as you do today.
If you do not have a Rewards Card, they are available at the Customer Service desk of any Fred Meyer store.
For more information, please visit www.fredmeyer.com/communityrewards.
Support Our Library with Every Amazon Purchase You Make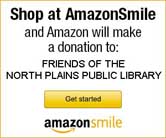 Did you know that Amazon will donate 0.5% of the price of your eligible purchases to the Friends of the North Plains Public Library?
AmazonSmile is a simple and automatic way for you to support the Library every time you shop, at no cost to you. When you shop at smile.amazon.com, you'll find the same low prices, selection, and shopping experience as at amazon.com, with the added bonus that Amazon will donate a portion of the purchase price to the Friends.
Sign up today, and make your choice be the Friends of the North Plains Public Library. Here's how…
Click on the Get Started Button in the Amazon Smile icon image.
Log in with your name and password.
Select the Friends of the North Plains Public Library as your designated charity.
Start shopping!
Bubble-Wrap Drive


Members of the Friends of the Library are collecting donations of small-bubble-sized bubble-wrap. Please bring your clean bubble-wrap donations (no tape attached to it) to the Jessie Mays
Community Hall and put it through the slot to the right of the door to the annex.
Many Thanks to North Plains RV and Self Storage

The Friends of the Library have been given a free storage unit to house books between
sales events. Friends members, city staff, and library staff are very grateful for this donation. We applaud the corporate support shown by owner Jeff Jensen and manager of operations,
John Eisenbarth.