Children's Storytime

Children ages 0-6 are invited to participate every Wednesday at 11:30 a.m. in the children's section of the Library.
-July 30 Storytime with Teacher Britta: Frogs and Toads
-August 6 Storytime with Miss Marion: Let's Fly Away!
-August 13 Storytime with Librarian Becky: Crocodiles
-August 20 Special Guest Storytime: Julianna and her Baby KuneKune Pig
-August 27 Storytime with Youth Librarian Jackie: Colors


Wacky Wednesdays

Wacky Wednesdays are hour-long performances for children and their families held at the Jesse Mays Community Hall at 30975 NW Hillcrest Street beginning at 1 p.m.
A full line-up of activities for the summer can be found HERE. Upcoming events are:
July 30, 1 p.m. – Storyteller, Christopher Leebrick.
Oregon Storyteller Christopher Leebrick has enthralled audiences with his remarkable storytelling ability since the age of 13. Children and adults alike enjoy his extensive repertoire of folk tales, legends, and whoppers from around the world.

August 6, 1 p.m. – Red Yarn: Deep Woods Naturalist.
Calling all naturalists! Sing and dance along with Red Yarn and his lovable critters as they take you on a scientific journey into the Deep Woods.

August 13, 1 p.m. – Evergreen Aviation Museum
Come learn all about outer space, rockets, space suits and more! All ages are welcome!

August 20, 1 p.m. – Reptile Man
Come celebrate the end of summer with the Reptile Man. Meet snakes, turtles, lizards & more! You don't want to miss this party! All ages are welcome!
First Friday Flick – New location!!!!

Our movies will now be shown at the Jessie Mays Community Hall at 30975 NW Hillcrest Street at 6 p.m. on the first Friday of the month.
Join us on Friday, August 1 for a PG-rated 3D animated film featuring a construction worker who leads his friends on a mission to save the universe from an evil tyrant who wants to freeze everything in the world into a fixed place with special glue.
Writer's Group
Share your writing projects and receive feedback from peers on Thursday, August 7 at 6:30 p.m.
New members are welcome to join. (This is not a teacher/trainer-led class.)
Check out this link to Creative Writing Prompts!



Friends of the Library Meeting

There will be a general meeting of the Friends on Monday, August 11 at the Library from 7:30-9 p.m.
New members are welcome to attend.
Library Board Meeting

The Library Board will meet on August 20 at 7:30 p.m. at the Library.
The public is welcome to attend and the agenda will be available a week prior to the meeting.
Summer Reading Programs for All Ages

Summer Reading program began on June 1. If you haven't already, stop by the library to sign up!
The general theme this year is SCIENCE. The Children's Slogan is Fizz, Boom, Read! The Teen Slogan is Spark a Reaction. The Adult Slogan is Literary Elements.
Artwork on Exhibit

The art exhibit on display in the Library from July 5 to September 5 will feature historic North Plains Elephant Garlic Festival posters – one for each of the 17 years the festival has occurred.
The creator of nine of these colorful posters was Brenna White of Tualatin, a working artist who paints original work, commissions, and murals. This year's festival will take place on August 8, 9, and 10 at Jessie Mays Community Park in North Plains. For more information and a peek at this year's poster by Brenna White, Click Here.





Library Book Club

This group takes a summer break in July and August.
Join us next on Wednesday, September 24 at 7:30 p.m. at the Library to discuss The Goldfinch by Donna Tartt.
Earn a Donation for the Library through Fred Meyer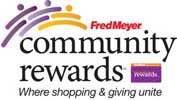 You can help the Friends of the North Plains Public Library just by shopping with your Fred Meyer Rewards Card.
Fred Meyer is donating $2.5 million per year to non-profits in Alaska, Idaho, Oregon and Washington, based on where their customers tell them to give.
Here's how the program works:
Sign up for the Community Rewards program by linking your Fred Meyer Rewards Card to the Friends of the North Plains Public Library. You can search for us by our name or by our non-profit number, 86408. Start here: www.fredmeyer.com/communityrewards
Then, every time you shop and use your Rewards Card, you are helping the Friends of the North Plains Public Library earn a donation!
You still earn your Rewards Points, Fuel Points, and Rebates, just as you do today.
If you do not have a Rewards Card, they are available at the Customer Service desk of any Fred Meyer store.
For more information, please visit www.fredmeyer.com/communityrewards.
Support Our Library with Every Amazon Purchase You Make
Did you know that Amazon will donate 0.5% of the price of your eligible purchases to the Friends of the North Plains Public Library?
AmazonSmile is a simple and automatic way for you to support the Library every time you shop, at no cost to you. When you shop at smile.amazon.com, you'll find the same low prices, selection, and shopping experience as at amazon.com, with the added bonus that Amazon will donate a portion of the purchase price to the Friends.
Sign up today, and make your choice be the Friends of the North Plains Public Library. Here's how…
Click on the Get Started Button in the Amazon Smile icon image.
Log in with your name and password.
Select the Friends of the North Plains Public Library as your designated charity.
Start shopping!
Regal Movie Theater Donation

Once again Regal Movies on TV Stadium 16 has generously offered to donate popcorn for all of our 2014 Summer Reading Program Events.
We wish to thank them publicly for this generous donation by promoting their special Spider-Man 2 Event the weekend of May 2nd. This event will coincide with the opening of the new movie, Spider-Man 2.
The Regal Movies on TV Stadium 16 is located at 2929 SW 234th Ave. in Hillsboro. For tickets or more information, you can call them at 503.259.9226.
Bubble-Wrap Drive


Members of the Friends of the Library are collecting donations of small-bubble-sized bubble-wrap. Please bring your clean bubble-wrap donations (no tape attached to it) to the Jessie Mays
Community Hall and put it through the slot to the right of the door to the annex.
Many Thanks to North Plains RV and Self Storage

The Friends of the Library have been given a free storage unit to house books between
sales events. Friends members, city staff, and library staff are very grateful for this donation. We applaud the corporate support shown by owner Jeff Jensen and manager of operations,
John Eisenbarth.