National Night Out

This annual community-building event has been celebrated across North America on the first Tuesday of August since 1983. It promotes police and community partnerships and neighborhood camaraderie to make our communities safer. This year's event will take place from 6 to 8 p.m. on Tuesday, August 4 at Jessie Mays Community Park.
The Washington County Sheriff's Department and the Cooperative Library Services (WCCLS) will have educational information available about upcoming November levy elections.





Wacky Wednesdays
Join us at the Jessie Mays Community Hall each Wednesday afternoon at 1 p.m. throughout the summer for an hour of free entertainment and fun. The Library sponsors programs for children as part of its Summer Reading activities. Four performers are provided by the Washington County Cooperative Library Services (WCCLS). This year's lineup includes:
August 5 – Amazing Food Detective

Someone has been calling the Amazing Food Detective to report health crimes, but who is responsible? Join the Amazing Food Detective on his newest caper — inside the body.

Participants will go on a magical journey full of animated rhymes, catchy songs, and surprising puppets. All ages are welcome to attend this free event which begins at 1 p.m.. Popcorn provided!

August 12 – LEGO Palooza

Come get a taste of our newest school-year program – Lego Palooza! This special summer edition runs from 1-2 p.m. We'll provide the LEGOs, and you provide your imagination to build fantastic creations. Ages 3 and up are welcome to attend this free event. Popcorn provided!

August 19 – Reptile Man and End of Summer Reading Program Party

Come celebrate the end of summer and the end of the Summer Reading Program with the Reptile Man. Meet snakes, turtles, lizards, and more! You don't want to miss this party! All ages are welcome to attend this free event which begins at 1 p.m. Popcorn provided!
Children's Storytime

Children ages 0-6 are invited to participate every Wednesday at 11:30 a.m. in the children's section of the Library.
–August 5 Storytime with Miss Marion: Family Fun
–August 12 Storytime with Teacher Barbara: Bathtime
–August 19 Special Guest Storytime: MetroWest Ambulance
–August 26 Storytime with Youth Librarian Jackie: Kangaroos
Summer Reading Teen Program

On Thursday, August 6 at 3 p.m. at the North Plains Senior Center (31450 NW Commercial Street, North Plains), teens can participated in Brad Clark's Comic Workshop.
Discover the process of creating comics. There will be games and activities for everyone, including writing, drawing and "inking" contests. Attendees will receive a free comic book! Cosplay attire is encouraged.
Participants must be entering grades 6-12, and this free program is limited to the first 20 teens to arrive.
Writer's Group

Share your writing projects and receive feedback from peers on Thursday,
August 6 at 6:30 p.m.
New members are welcome to join. (This is not a teacher/trainer-led class.) Check out this link to Creative Writing Prompts!
Friends of the Library Book Sale at the Elephant Garlic Festival

Come to Jessie Mays Community Park (30975 NW Hillcrest Street, North Plains) during the 18th Annual North Plains' Garlic Festival on August 7, 8, and 9, to enjoy music, food, crafts, and a fabulous used book sale!
All proceeds from this sale benefit the North Plains Public Library. The Book Sale hours of operation are:
Friday, August 7 – 12-6 p.m.
Saturday, August 8 – 10 a.m. -6 p.m.
Sunday, August 9 – 10 a.m. -2 p.m.
There will be hundreds of gently used books at low prices from which to choose, including the following genres: Popular Fiction, Nonfiction, Children's, Young Adult, Self-Help, Textbooks, Reference, Crafts, Gardening, Coffee Table Art, Cookbooks, Decorating, Psychology, Romance, Technology, Engineering , History, and Political Science. There are also audiobooks, DVDs, VHS tapes, and multi-volume sets.
Free Math and Science Tutoring

North Plains Public Library now has a Math and Science Tutor available to assist students. Math tutoring is available for students in elementary through college grade levels. Science tutoring is available for elementary and middle school grade levels.
Appointments for summer tutoring on Sunday, August 9 between 3 and 5 p.m. and on Sunday, August 23 between 3 and 5 p.m. are now being taken. Please call the library at 503 647-5051 to make a reservation.
First Friday Flick

The Friday, August 7 movie has been cancelled because of the Elephant Garlic Festival.
Movie showings will resume on Friday, September 4.





More Open Hours!

Thanks to funding from the Washington County Cooperative Library Services and approval of the 2015-2016 budget by the North Plains City Council, the North Plains Library will be open 50 hours each week – one hour earlier each weekday and Saturday and eight summer Sunday afternoons! These new open hours begin on Monday, July 6. Visit early and visit often!
Monday-Wednesday 10 a.m. to 7 p.m.
Thursday-Friday 10 a.m. to 6 p.m.
Saturday 10 a.m. to 5 p.m.
July 12, 19, 26 and August 2, 9, 16, 23, 30
Sunday 1 p.m. to 5 p.m.
Summer Reading Challenge
The Every Hero Has a Story Summer Reading Challenge ends on August 31. Library Staff-Board-Volunteers versus North Plains Readers. Who will win the contest to read one million pages? Be sure to report the number of book pages you've read this summer before the end of the month.
Library Board Meeting

The Library Board will meet this month on August 19 at 7:00 p.m. at the North Plains Public Library.
The public is welcome to attend and the agenda will be available a week prior to the meeting.

Are your kids looking for something to do this summer? Check out the YMCA camp that will be happening at Jessie Mays from August 17 through 21 for boys and girls ages 7-12.
Registration forms are available online, at City Hall, or at the Library. Financial assistance is also available.
Artwork on Exhibit

The art exhibit in August will be a showing of seasonal quilts made by local resident Diane Link.
Diane started quilting over 32 years ago. She took a beginning class and has taught herself the rest. She usually makes her quilts as gifts for newborns and friends, or for her home, and it is these gems that Diane has on display at the Library. She machine-pieces and usually hand-quilts. Of note are the flag quilt, which was made when her son commissioned with the USMC, the blue and yellow pineapple star quilt from the book, Pineapple Stars by Sharon Rexroad, and the lone Iris quilt, which is a pattern from the Lake Oswego quilting store, Pine Needle.
Friends of the Library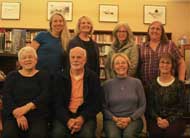 The Monday, August 10 meeting has been cancelled because of the Elephant Garlic Festival. The next meeting of the Friends will be held on Monday, September 14.
New members are welcome to attend.
Library Book Club

The Book Club is taking a summer break now and will meet again on September 30 when they will discuss "All the Light We Cannot See" by Anthony Doerr.
Winner of the 2015 Pulitzer Prize for fiction, Anthony Doerr's latest novel is highly acclaimed and should provide a great "summer read" and a lively discussion in September.
New members are always welcome to join.
Quilt Display

The quilt on display above the checkout desk throughout the month of August is a revised version of "Japanese Fans" designed by Judy Niemeyer, a member of the Westside Quilters Guild.
It measures 96" square and was pieced by Margaret McConnell of Sherwood. It was quilted by multi-award-winner Rhonda K. Beyer. All the fabrics are Japanese-styled, many with a gold-print overlay. Silk batting and gold-colored thread were used, and each "fan" features a different quilting pattern.
Staff Spotlight: Sheila Nelson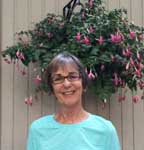 Having lived near North Plains for many years, Sheila Nelson is happy to be a part of the community. First as a volunteer and then as an employee, Sheila has been working at the Library for many, many years. You will be warmly greeted by her whenever she is stationed at the front desk.
She and her husband, Philip, manage ten acres of forest on Pumpkin Ridge which is home to numerous flocks of grosbeaks, finches, swallows, and hummingbirds. They like to get away to a variety of beaches and coastlines for a different perspective. Sheila's favorite part of her job is to match readers and books, so come in and let her try to find you a great read!
Quilt Raffle

Many thanks to The Westside Quilters Guild members for their generous donation of this colorful quilt for the Library to raffle as a fundraiser. Tickets are now on sale and will be sold throughout the coming year until the winning ticket is drawn at the annual Elephant Garlic Festival in August.
Each ticket is $1, or 6 tickets will be issued for $5. This beautiful quilt utilizes a non-traditional pinwheel design. Rather than incorporating traditional half-square triangles, each of the four arms of every pinwheel in this quilt is in the shape of a trapezoid. Each block features a different, brightly colored pinwheel on a white patterned background, and the entire piece is machine-quilted. It measures six feet square.
This quilt will be on display over the Checkout Desk during January and displayed elsewhere in the Library thereafter.
Earn a Donation for the Library through Fred Meyer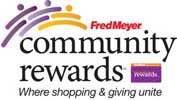 You can help the Friends of the North Plains Public Library just by shopping with your Fred Meyer Rewards Card.
Fred Meyer is donating $2.5 million per year to non-profits in Alaska, Idaho, Oregon and Washington, based on where their customers tell them to give.
Here's how the program works:
Sign up for the Community Rewards program by linking your Fred Meyer Rewards Card to the Friends of the North Plains Public Library. You can search for us by our name or by our non-profit number, 86408. Start here: www.fredmeyer.com/communityrewards
Then, every time you shop and use your Rewards Card, you are helping the Friends of the North Plains Public Library earn a donation!
You still earn your Rewards Points, Fuel Points, and Rebates, just as you do today.
If you do not have a Rewards Card, they are available at the Customer Service desk of any Fred Meyer store.
For more information, please visit www.fredmeyer.com/communityrewards.
Support Our Library with Every Amazon Purchase You Make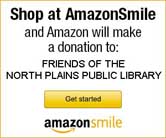 Did you know that Amazon will donate 0.5% of the price of your eligible purchases to the Friends of the North Plains Public Library?
AmazonSmile is a simple and automatic way for you to support the Library every time you shop, at no cost to you. When you shop at smile.amazon.com, you'll find the same low prices, selection, and shopping experience as at amazon.com, with the added bonus that Amazon will donate a portion of the purchase price to the Friends.
Sign up today, and make your choice be the Friends of the North Plains Public Library. Here's how…
Click on the Get Started Button in the Amazon Smile icon image.
Log in with your name and password.
Select the Friends of the North Plains Public Library as your designated charity.
Start shopping!
Bubble-Wrap Drive


Members of the Friends of the Library are collecting donations of small-bubble-sized bubble-wrap. Please bring your clean bubble-wrap donations (no tape attached to it) to the Jessie Mays
Community Hall and put it through the slot to the right of the door to the annex.
Many Thanks to North Plains RV and Self Storage

The Friends of the Library have been given a free storage unit to house books between
sales events. Friends members, city staff, and library staff are very grateful for this donation. We applaud the corporate support shown by owner Jeff Jensen and manager of operations,
John Eisenbarth.