An Evening with An Author – Robin Cody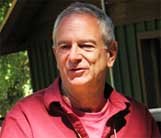 The Friends of the North Plains Public Library will host the first event of its "An Evening with an Author" series on Saturday, January 24 beginning at 7 p.m. at the Library. Oregon author Robin Cody has been invited to launch this new program. His published works include both fiction and non-fiction books.
Cody was born in St. Helens. His family moved to Estacada when he was five and remained there for nearly 50 years. Cody graduated from Yale University, taught in the American School of Paris, France, and was the Dean of Admissions for Reed College. In 1984, he became a writer with The Oregonian. One of his stories won the Western Writers of America Silver Spur Award for short non-fiction in 1986. Cody later joined the Bonneville Power Administration (BPA) as a freelance writer. It was during an assignment for BPA that he was inspired to canoe the length of the Columbia River from its source to its mouth. The 82-day trip gave birth to his book, Voyage of a Summer Sun, which won the Oregon Book Award in 1995.
Ricochet River, Cody's second book, was first published in 1992. It deals with the lives of three high school students in the fictional small town of Calamus, Oregon in the 1960s. Ricochet River was one of one hundred works chosen by the Oregon Cultural Heritage Commission "as exemplifying Oregon's rich literary heritage from the years 1800 to 2000." The book was made into a 1998 film starring Kate Hudson.
Cody now conducts seminars and workshops in the Portland area, mostly about nature-writing. He will be speaking about his works, particularly Voyage of a Summer Sun, followed by a "question and answer" period and book signing. This free program is open to the public. Refreshments will be served.
Children's Storytime

Children ages 0-6 are invited to participate every Wednesday at 11:30 a.m. in the children's section of the Library.
-January 28 Storytime with Teacher Barbara: Wolves
-February 4 Storytime with Miss Marion: Teddy Bears
-February 11 Storytime with Teacher Barbara: Transportation


Library Book Club Pot Luck Party

Come enjoy our annual Book Club Potluck Dinner at the Library on Thursday, January 29 beginning at 6:00 p.m. This is when the book choices are finalized for 2015, and it is a perfect time to join our group and participate in the selections.
If you are interested, please contact the Library at 503-647-5051 and give us your name and email. We will be in touch with all the details for the potluck and book choosing process.
2015 Teen Summer Reading Art Contest

Are you an artist who also happens to be age 12-18? Submit a design to our Teen Summer Reading Artwork Contest!
The winning design will be used on 2015 Teen Summer Reading program materials across Washington County, including posters, bookmarks, flyers and more.
The winner also receives a $150 gift certificate for Powell's Books. The second place winner receives a $50 gift certificate for Blick Art Materials, and the winner of honorable mention will get a $25 Blick gift certificate.
The contest opens Friday, January 2, 2015, and the last day to submit your entry is Saturday, February 14, 2015. Click here to get all of the contest details and the entry form (PDF). Good luck!
Artwork on Exhibit

The art exhibit in January and February will feature abstract paintings by Hillsboro artist Jeff Jurrens.
Jurrens' abstract expressionist paintings are large, geometric, textured, and colorful. He has been painting since retiring from the Hillsboro Fire Department in 2005, inspired by a lifelong appreciation of art and influenced by New York's abstract expressionism movement of the 1950s.
Welcome, Cindy!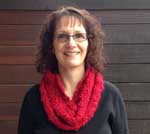 Please welcome our newest employee, Cindy Hibray. After a year of volunteering for the Library, she has joined the staff as a part time Library Clerk. Cindy enjoys working behind the scenes processing new books and DVDs as well as working at the Checkout Desk welcoming patrons. She enjoys being a part of the North Plains community.
Cindy was born and raised in New Mexico. She received a BA in Accounting from the University of New Mexico and earned her CPA professional certification. She and her husband, Kevin, spent a decade living in various places throughout the country before deciding to move to Oregon in 1999 to live in the trees and rain, which they both love. Since having her third child, Cindy's time has been dedicated to homeschooling her children. (All are now teenagers.) Both Cindy and her husband are actively involved in supporting their two youngest in a musical theater group.
Cindy loves being outside with her kids, playing with her dog, and watching her chickens. She enjoys reading, playing games, watching her kids perform, and hanging out with friends.
Knights of Pythias E-books Donation


Many thanks to the members of the North Plains Knights of Pythias Glencoe Lodge No. 22 for their generous donation to the Library in support of our e-reader program. The Knights previously purchased a Nook and a Kindle for public checkout. Each was loaded with approximately 25 titles in fiction and non-fiction for adults, teens, and children.
This month, the Knights funded the purchase of ten more unique bestseller titles for each device. The Library's e-readers check out for three weeks, and staff are available to introduce the devices to those who have yet to enjoy reading books through this new technology.
Quilt Raffle

Many thanks to The Westside Quilters Guild members for their generous donation of this colorful quilt for the Library to raffle as a fundraiser. Tickets are now on sale and will be sold throughout the coming year until the winning ticket is drawn at the annual Elephant Garlic Festival in August.
Each ticket is $1, or 6 tickets will be issued for $5. This beautiful quilt utilizes a non-traditional pinwheel design. Rather than incorporating traditional half-square triangles, each of the four arms of every pinwheel in this quilt is in the shape of a trapezoid. Each block features a different, brightly colored pinwheel on a white patterned background, and the entire piece is machine-quilted. It measures six feet square.
This quilt will be on display over the Checkout Desk during January and displayed elsewhere in the Library thereafter.
Earn a Donation for the Library through Fred Meyer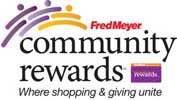 You can help the Friends of the North Plains Public Library just by shopping with your Fred Meyer Rewards Card.
Fred Meyer is donating $2.5 million per year to non-profits in Alaska, Idaho, Oregon and Washington, based on where their customers tell them to give.
Here's how the program works:
Sign up for the Community Rewards program by linking your Fred Meyer Rewards Card to the Friends of the North Plains Public Library. You can search for us by our name or by our non-profit number, 86408. Start here: www.fredmeyer.com/communityrewards
Then, every time you shop and use your Rewards Card, you are helping the Friends of the North Plains Public Library earn a donation!
You still earn your Rewards Points, Fuel Points, and Rebates, just as you do today.
If you do not have a Rewards Card, they are available at the Customer Service desk of any Fred Meyer store.
For more information, please visit www.fredmeyer.com/communityrewards.
Support Our Library with Every Amazon Purchase You Make
Did you know that Amazon will donate 0.5% of the price of your eligible purchases to the Friends of the North Plains Public Library?
AmazonSmile is a simple and automatic way for you to support the Library every time you shop, at no cost to you. When you shop at smile.amazon.com, you'll find the same low prices, selection, and shopping experience as at amazon.com, with the added bonus that Amazon will donate a portion of the purchase price to the Friends.
Sign up today, and make your choice be the Friends of the North Plains Public Library. Here's how…
Click on the Get Started Button in the Amazon Smile icon image.
Log in with your name and password.
Select the Friends of the North Plains Public Library as your designated charity.
Start shopping!
Bubble-Wrap Drive


Members of the Friends of the Library are collecting donations of small-bubble-sized bubble-wrap. Please bring your clean bubble-wrap donations (no tape attached to it) to the Jessie Mays
Community Hall and put it through the slot to the right of the door to the annex.
Many Thanks to North Plains RV and Self Storage

The Friends of the Library have been given a free storage unit to house books between
sales events. Friends members, city staff, and library staff are very grateful for this donation. We applaud the corporate support shown by owner Jeff Jensen and manager of operations,
John Eisenbarth.